Washington Post's Doug Frantz '71 Honored by HS Alma Mater
July 18, 2012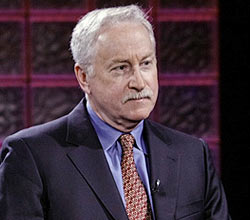 Douglas Frantz, national security editor for the Washington Post and 1971 graduate of DePauw University, has received a Distinguished Alumni Award from Indiana's Manchester Community School system. Frantz was among five individuals honored at a June 23 banquet.
"Frantz graduated from Manchester High School in the Class of 1967 after participating in sports and various clubs and activities," reports the Warsaw Times-Union. "After graduating from DePauw University in Greencastle, Frantz began a distinguished career as an investigative journalist. He has been an investigative reporter for the Chicago Tribune, a managing editor and investigative reporter for the Los Angeles Times and an editor and foreign correspondent for the New York Times. As a member of the New York Times investigative reporting team, Doug won the

2002 Pulitzer Prize for Public Service after the 9/11 terrorist attacks. He is also a two-time Pulitzer finalist and he is the author or co-author of 10 books, including two on nuclear proliferation and three NYT Notable Books of the Year."
The article is available to subscribers at the newspaper's website.
Doug Frantz joined the Post in May. You'll find details in this recent story.
Back