DePauw's Hakki Ogelman: An Astrophysicist's Life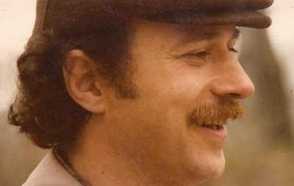 July 18, 2012
By Peter Work '61 and Joe Allen '59
Dr. Hakki B. Ogelman (1940-2011) was a world-renowned experimental astrophysicist, a Turkish national, and a DePauw tiger. He arrived at DePauw in 1957, a month before the Soviet Union launched Sputnik, an era in which DePauw had few foreign students from anywhere, much less from the Muslim world. Undaunted by his own novelty, Hakki plunged into campus life. He excelled in his classes, captained the wrestling team, waited tables at the Tri Delt house, worked in the Science Department, was a favorite Phi Psi brother, and dated a lovely Alpha Chi co-ed whom he would later marry.
Hakki graduated from DePauw in three years, went on to get his PhD at Cornell, and began his astrophysics career at NASA. Then, following a path rarely taken by U.S.-trained foreign scientists in that era, Hakki returned to Turkey after 13 years and established the field of experimental astrophysics there. He became well-known in astrophysics circles all over the world, making significant scientific discoveries and publishing scores of articles. Ultimately, Hakki came back to the United States and, from 1991 until his death in 2011, was a mainstay in the Astrophysics Department at the University of Wisconsin. All the while, Hakki stayed close to his DePauw friends, including the authors of this article, and shared with them his fascinating story and enthusiasm for life and learning. His career, bracketed as it was by the launching of Sputnik at the beginning, and by the growing trend toward globalization and focus on the Muslim world at its conclusion, is an intriguing lens through which to view world events of the last fifty years.
Growing Up in Turkey
Hakki grew up in Istanbul as part of a modern, secular Turkish family. Both of Hakki's parents were supporters of Mustafa Kemal Ataturk, who founded the Republic of Turkey in 1923, following the disintegration of the Ottoman Empire. Hakki's mother, Vedya, was a school teacher whose family was from Greece and was part of the population exchange between Greece and Turkey following the Turkish War of Independence (1919-22). His father, Salehettin, was a lawyer whose ethnic Turkish family moved from Bulgaria to an area near the presumed site of Troy following defeats of the Ottoman Empire in the Balkan Wars (1912-13). Salehettin and his brother created the family name, Ogelman, when Turks were obliged following their War of Independence to choose family names. "Ogel" means medieval castle in Turkish, and "man" was added to give the name a European sound.
Hakki attended Robert College from the time he was 10, until he left Turkey for DePauw at 17. The school – located high on a hill above the Bosphorus – had provided American-style education under the Ottoman Empire since its founding by American philanthropist Christopher Robert in 1863. Following the Turkish War of Independence, Robert College educated many of Turkey's leading citizens, both men and women, including prime ministers, cabinet ministers, and leaders in science, medicine, law, business, and the arts.
Hakki's life-long friends from Robert College – including Erol Moran, who also attended DePauw – remember him as an outstanding student who skipped a couple of grades on his way to an international baccalaureate, a versatile athlete, and a favorite among girls who thought he looked like James Dean.
Coming to DePauw
Hakki's father had an interest in a coal mine some 200 km from Istanbul, and he was determined that Hakki should be educated in Turkey, become a mining engineer, and take over the mine. Hakki, for his part, had long dreamed of coming to the United States on his own. Dutifully, he applied to and was accepted in the engineering program at Colorado School of Mines. But what he really wanted to do was to study science. His chance came in the summer of 1957, when DePauw history professor John Baughman visited Robert College. Hakki and Erol Moran were assigned to take Baughman to historical sites in and around Istanbul, and the tour, covering 2,500 years of history, lasted many days. Upon returning to DePauw, Baughman organized financial assistance for Hakki at a time when the shortage of foreign exchange in Turkey made it difficult for any Turkish national to attend college outside the country without help.
Hakki entered DePauw in September 1957. Because of his international baccalaureate degree, he was granted a year of college credit, and thus at 17, he became an instant sophomore, a member of the Class of 1960. Classes at Robert College were conducted in English, so Hakki had no trouble with the language when he came to DePauw, and he fit in both academically and socially as well as any entering student. He soon fell in love with physics and decided that was the field he would pursue – despite continuing pressure from home to become a mining engineer. Athletically, Hakki became a star, and ultimately a captain, on DePauw's very successful wrestling team. He even tried out for football – a game he had not seen, much less played – at the urging of a Phi Psi fraternity brother. Another Phi Psi brother, who waited tables at the Alpha Chi house, introduced Hakki to Ivy White of that sorority. Hakki and Ivy became inseparable during the two years they were together at DePauw, and they would marry in the summer following Ivy's graduation.
Not everything was a bed of roses for Hakki at DePauw. In his second year on campus, Hakki's parents lost much of their money in bad investments, and Hakki was on his own financially from that point forward. DePauw came through with additional scholarship money, and Hakki supplemented it by working in the Science Department. In addition, Hakki and Erol Moran (who would become a very successful entrepreneur in Turkey) went into business together, importing then-wildly popular meerschaum pipes from their only source in central Turkey and selling them to students and their fathers at prices well below those available in retail stores. Hakki's and Erol's merchandise inventory also included sheepskin coats, but they proved a harder sell than the pipes.
Discovering Experimental Astrophysics at Cornell
Going from DePauw, with its small physics faculty, to Cornell, Hakki found himself literally in the Big League of Physics. Cornell's physics faculty during Hakki's time in Ithaca included such notables as Nobel laureate Hans Bethe, science popularizer and frequent Johnny Carson Show guest Carl Sagan, and internationally prominent astrophysicists Tommy Gold and Kenneth Greissen. Hakki was drawn to experimental astrophysics, and he spent most of his five-plus years at Cornell working with Gold and Greissen. The latter had been a major contributor to the Manhattan Project, and he became Hakki's PhD thesis advisor.
Under Professor Greissen's guidance, Hakki's thesis experiment entailed a sophisticated instrument package tied to a helium-filled balloon. The balloon floated to 100,000 feet where the instrument package measured the energy distribution of gamma rays (i.e., extremely energetic bundles of electromagnetic radiation) hitting the upper reaches of the atmosphere at light speed. The experiment turned out to be a good news-bad news-good news story. The good news was that the instruments worked as planned, and hours of valuable data were collected. The bad news was that when the balloon released the instrument package as planned, the parachute for the package failed to open and the package hit the west Texas desert at terminal velocity. For days the package could not be located, and it was feared lost. Finally, though, a rancher found the wreckage of the instrument package and, thinking it was the remains of a flying saucer, reported his discovery to the federal government. Miraculously, the recorded data was undamaged. Hakki had again jerked success from the jaws of defeat.
Achieving Early Prominence at NASA
After receiving his PhD from Cornell in 1966, and doing a year of post-doctoral work at the University of Sydney, Australia, Hakki signed on with the NASA Goddard Space Center in Maryland as a National Academy of Science Research Associate. This engagement was the start of a life-long working relationship that Hakki maintained with NASA. Within three years, Hakki and his Goddard colleagues had come to be recognized at the world's leading experts on strange space objects such as pulsars, quasars, and neutron stars. He published prolifically during this period, and had a number of his works accepted for publication by the prestigious journal of the American Astronomical Society.
Returning to Turkey
Hakki was one of many foreigners who came to the United States to study and practice science in the decades following World War II. Unlike all but a very few of them, Hakki felt a strong pull – after 10-plus years here – to return to Turkey and use his knowledge and experience for the advancement of science in that country. Like his hero Mustafa Kemal Ataturk, Hakki was a nationalist at core. So in February 1970, Hakki accepted an appointment at the emergent Middle East Technical University (METU) in Ankara. He, along with Ivy and their sons, Kenan and Nedim, pulled up stakes and moved to Turkey. Over the next 12 years, Hakki would make important contributions to his homeland, not the least of which were his establishment and nurturing of the field of experimental astrophysics in Turkey and his creation of the Turkish National Observatory. But he did not anticipate the many trials he would face in pursuit of his goal of advancing science in Turkey.
Hakki's first hurdle was Turkey's mandatory military service requirement. In his 30s, with a PhD and a growing international reputation, Hakki was still obliged to serve 18 months as an enlisted man in the Turkish Army. He went through basic training, lived in barracks with rough, uneducated teenagers, and suffered untold humiliations – all for the opportunity to help move Turkey forward on the scientific front.
Even when his military service was behind him, Hakki continued to encounter frustrations as he worked to establish an experimental astrophysics program at METU. He had good students who have since done exceptionally well in their own careers, some in continuing collaboration with Hakki. But the equipment available to Hakki at METU was primitive compared to what he was used to at NASA – so much so that Hakki became more convinced than ever that a continuing relationship with NASA was essential to the success of his mission in Turkey.
Overriding everything else was Turkey's instability throughout the 1970s and early 1980s – the result of social conflicts which engulfed much of the country and brought it to the brink of civil war. METU was a flashpoint for this conflict – the roots of which lay in economic recession – and the school remained in turmoil throughout much of the period Hakki and his family were there. At METU and elsewhere, left-wing student and worker movements were formed, only to be confronted by right-wing nationalist and Islamist movements. Both sides engaged in boycotts, bombings, robberies, and even kidnappings and assassinations. Twice during this period – in 1971 and again in 1980 – the Turkish military stepped in to stage coups d'etat.
Even with all the turmoil at METU, there were positive aspects of the Ogelmans' life there. They lived on campus, where their professional colleagues were also their close friends. Some were quite notable, such as Erdal Inonu, who first chaired METU's Physics Department, advanced to the presidency of the University, and ultimately became Prime Minister of Turkey. On the scientific front, Hakki was credited during his time at METU with many important discoveries in the field of high energy astrophysics. He was universally viewed as Turkey's leading experimental astrophysicist. And he was respected not only for the results he achieved, but also for the brightness, creativity, and dexterity with which he approached scientific issues.
Unfortunately, Hakki and Ivy's marriage did not survive the chaotic years in Turkey. In 1977, Ivy returned to the United States with the boys, earned her PhD at the University of Texas, and served for years as a member of the University's staff.
Hakki, for his part, married a Physics Department colleague at METU – Dr. Yeter Goksu. They had a stormy relationship, influenced by Yeter's passionate social and political views. She was an outspoken advocate of women's rights and an ardent communist. That combination made her a lightning rod in the left/right conflict that continued to rage throughout Turkey. As a result, life at METU became very uncomfortable for Hakki and Yeter. In 1978 they took a leave of absence and moved to Adana in southern Turkey, close by the ancient city of Tarsus, where Hakki became Dean of Basic Sciences at the newly established Cukurova University. There he started physics and astronomy programs, taught a multitude of general science courses, became deeply immersed in efforts to exploit solar energy, and built a revolutionary "solar house" on the Cukorova campus which today stands as a memorial to Hakki.
The move to Adana, however, did not have its intended effect of getting Yeter out of the political spotlight. Following the coup d'etat in 1980, Turkey's ruling military junta jailed thousands of suspected political subversives. Yeter was among them, and she remained in prison without formal charges for more than eight months. When the junta finally released Yeter, she and Hakki knew the time had come for them to leave Turkey.
Hakki continued until his death to visit his homeland every summer for collaborations with Turkish scientists and teaching at Sabanci University in Istanbul, but he never again would live there full-time. Even after his departure, however, Hakki continued to be held in high esteem by the Turkish scientific community. In 1988, Hakki, along with his METU student Ali Alpar, was awarded the highest scientific honor bestowed in Turkey, the Sedat Simavi Prize. And in 1991, Hakki received the Turkish Scientific and Technical Research Council Prize.
Moving on to Munich and then Madison
Upon leaving Turkey, Hakki accepted a position at the Max Plank Institute for Extraterrestrial Physics near Munich where he had already spent several summers in order to stay connected with the vibrant international community of scientists working on high energy astrophysics. What Hakki had originally envisioned as a brief interlude at MPE stretched into eight years. Europe had a satellite called EXOCAT which Hakki used to make several notable discoveries. Then MPE built a new X-ray satellite, ROSAT, which enabled Hakki to be among the first scientists to detect X-ray sources in space.
Toward the end of Hakki's stay at MPE, his relationship with Yeter Goksu foundered, and he began seeing an Italian astronomer, Marina Orio. Hakki and Marina spent the remainder of Hakki's life together, married and had a son, Roberto, who is about to enter college in the United States.
In 1991, Hakki accepted a physics professorship at the University of Wisconsin and returned to the United States where he felt the scientific community was most lively and interesting. He continued to work with ROSAT, published more than he ever had before (60-plus articles), mentored a number of successful PhD candidates, and reveled in teaching a variety of physics courses to graduate and undergraduate students alike. He also returned to Turkey each summer to collaborate with his former students and colleagues there and nurture new generations of Turkish physicists. In Madison Hakki bought a house on Lake Monona which reminded him of growing up beside the Bosphorus. Hakki's life during these early years in Madison was very good indeed.
Last Years and Reflections
In 1996 – when Hakki was at the peak of his scientific career, his international reputation as a leading experimental astrophysicist secure – he suffered a massive stroke that left him physically handicapped. After rehabilitation, he was able to get back to his teaching, research, and writing, but he no longer had the boundless energy that had been his trademark before the stroke. Nonetheless, Hakki retained his love of science and life, and he continued to work in Madison and Istanbul until just months before he died from an aggressive form of cancer in September 2011. He read and thought broadly on a wide range of scientific and non-scientific subjects, and he transmitted his zeal for learning to all with whom he came in contact.
Following Hakki's death, the Turkish Astronomical Society created a memorial fund in his honor to underwrite a Hakki Ogelman Summer School for students of astronomy from all over Turkey. The recognition is fitting because Hakki was a born teacher, known for his clarity, enthusiasm, and genuine interest in students.
The authors of this article have the fondest memories of our friendships with Hakki Ogelman which began at DePauw fully 55 years ago. We were both teammates of Hakki on what may have been the best wrestling team in DePauw's history. One of us (PW) was Hakki's roommate and fraternity brother. The other (JA) had the great privilege of spending the entire summer of 1959 with Hakki and his family at their summer home on the northern shore of the Marmara Sea. We both kept up with him over the course of his life, and we saw him within his last days. We, like all of our DePauw classmates, will miss Hakki, but we will never forget him: a world famous scientist, a Turk, and a DePauw Tiger.
Back