Child Psychologist Matt Hertenstein Offers Advice to Parents
July 21, 2012
"Although punching a pillow or stomping his feet may seem like a reasonable way for your child to blow off steam, a study published in the Personality and Social Psychology Bulletin suggests these outlets actually do the opposite," notes the August issue of Parents. "They get a child revved up even more," Matt Hertenstein, associate professor of psychology at DePauw, tells the magazine, which notes that he is "lead researcher at the Touch and Emotion Lab at DePauw."
The text offers, "A better way to get the angries out is for him to do some nonaggressive activities (such as jumping jacks) for a while to release his negative energy."
In the article headlined "Emotional Rescue,"
Jeanette Moninger writes, "Living with a preschooler can be like riding an emotional roller coaster. Your child is happy to be playing with his favorite toy, then angry that his big brother grabbed it away, and then sad that the toy is broken. In the span of a few minutes, he's gone from giggles to rage to tears, and the drama has probably left you drained too. Why do young kids tend to have such extreme mood swings? It's not because they feel things more deeply than adults do."
The August issue of Parents is on newsstands now.
Research by Dr. Hertenstein and his students on smiling in yearbook photos and whether subjects became divorced later in life first received worldwide attention in the spring of 2009. The findings were initially published in the journal Motivation and Emotion. Coverage began in British media outlets, and spread to United Press International, Yahoo! and a piece which aired April 16, 2009 on NBC's Today. The research was included in the New York Times Magazine's "Ninth Annual Year in Ideas" and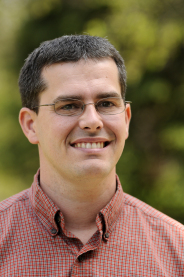 was cited by India Today, New Scientist and British Columbia's Province.
Matthew J. Hertenstein's research on communicating through touch led to a September 20, 2010 NPR piece and an interview by ABC's Diane Sawyer, as well as a piece in the New York Times. He is the co-editor of The Handbook of Touch: Neuroscience, Behavioral, and Health Perspectives, recently published by Springer.
The professor was also quoted in the July issue of Pregnancy & Newborn magazine and his work was noted in the March issue of Yale Scientific.
Visit Dr. Hertenstein's Touch and Emotion Lab online by clicking here.
Source: Parents
Back