Congress Stymied by "Partisan Polarization": Lee Hamilton '52
July 22, 2012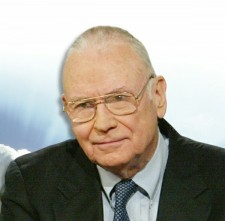 "Congress, unlike the country at large, is noxiously partisan," declares Lee Hamilton in a newspaper op-ed. The veteran statesman and 1952 graduate of DePauw University says that while "there are partisan divisions among voters," most Americans "want politicians to find common ground -- not dwell on their differences, promote special interests or place party loyalty ahead of national progress. Americans see the value in compromise, accommodation and civility."
According to Hamilton, who served 34 years in the U.S. House of Representatives, "Congress, on the other hand, is filled with people who barely talk to each other, do their best to undermine the other side, and seek partisan advantage at every turn. There are exceptions, but I'm always struck by news stories outlining efforts to bridge the partisan divide. That these are news, rather than commonplace occurrences, highlights the problem."
Hamilton asks, "How did Congress get to the point where partisan polarization has become
the most prominent feature of American politics?," and notes that redistricting efforts have led to congressional districts that are decidedly partisan. "This means if there's a political threat, it's from members of their own party," the Democrat writes. "There is very little reason for a candidate to consider the views of people across the political spectrum or to move to the center. Instead, the candidate must focus on the small number of partisan activists who dominate primaries."
Members of Congress are also spending less of their free time in Washington getting to know fellow lawmakers, Hamilton notes, and the "24-hour news cycle and instant analysis have forced politicians to take positions before they really have time to think them out ... The result is that the sheer intensity of our politics has been ramped up -- with money, lobbyists, interest groups, reporters, bloggers and countless ordinary-citizen commentators adding to the pressure politicians feel, raising the stakes and amplifying the feelings on every issue."
Solutions to the problem will be as complex as the maladies themselves, Hamilton asserts. "Too often, 'debate' these days is just the two parties' talking points hammering at each other in a mean-spirited, strident tone -- not a genuine dialogue that searches for common ground and a solution to the problem. Changing this will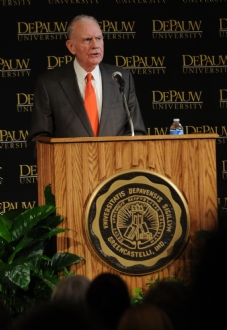 require you and me to make it clear to our political friends that we do not like divisive name-calling, constantly attacking an opponent's motivation or blatant partisan calculation. Let them know we all pay the price for excessive partisanship -- and we're tired of it."
Read the complete column at the website of Texas' Amarillo Globe-News.
Lee H. Hamilton is director of the Center on Congress at Indiana University. As a DePauw undergraduate, Hamilton majored in history and was a star player on the Tiger basketball team. He was inducted into the Indiana Basketball Hall of Fame in 1982 and the DePauw Athletic Hall of Fame in 1987.
On March 15, 2011, he returned to DePauw to deliver a Timothy and Sharon Ubben Lecture. A summary including video clips can be accessed here.
Back