Megan Daw Named Assistant Cross Country and Track & Field Coach and Recruiting Coordinator
August 9, 2012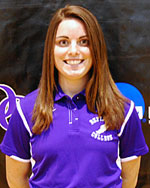 Greencastle, Ind. - Megan Daw, an assistant cross country and track and field coach at Defiance College (Ohio), has been named assistant men's and women's cross country and track and field coach/recruiting coordinator at DePauw University.
Daw replaces Linda Striggo who was with the program for 11 years.
"Megan will be leading our recruiting efforts for the men's and women's cross country and track & field teams," DePauw head men's and women's cross country and track and field coach Kori Stoffregen said.
"She brings lots of energy to this position and her passion for the sport will be a great asset to our programs."
In addition to her recruiting duties for each of the programs, Daw will also work with the sprinters, hurdlers and horizontal jumpers.
While at Defiance, Daw assisted with all aspects of the program. She was responsible for coordinating all preseason and regular season training plans for sprinters jumpers and hurdlers, while also providing the skills to the athletes to strive off the field through academic achievement.
Additionally, her squads racked up numerous merits including, setting seven track school records, sending an athlete to the NCAA Championships, bringing home 15 Heartland Collegiate Athletic Conference academic all-conference accolades, six outdoor all-Ohio, six HCAC honorable mention, three indoor all-Ohio and two HCAC Athlete of the Week honors.
Daw also has developed additional experience in the coaching realm through her creation of the RUN, JUMP, THROW Track and Field Camp, which she directed from 2004-2006. Furthermore, she volunteered at the 2009 NCAA Cross Country Championships and the 2010 NCAA Track and Field Championships before coaching at the Archbold Track and Field Camp in 2011.
A 2010 graduate of John Carroll University, Daw went on to earn her master's degree in education from Defiance in 2012 and is currently a member of the USA Track & Field (USATF) organization. She is USATF Level One certified and in the summer of 2012 earned Level Two certification in jumps.
In her time as an undergraduate at John Carroll, Daw was a member of the track and field team for four years, being named captain for her junior and senior campaigns. While in Cleveland, Ohio, she was also a member of the Student Athlete Advisory Committee for the duration of her education.
Back