Magazine Notes National Award Received by Tim Ubben '58
August 7, 2012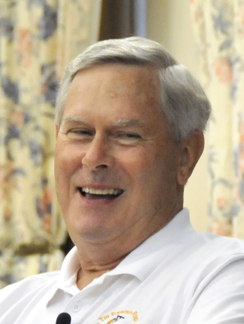 "During the last three decades, DePauw University alumnus Timothy H. Ubben, winner of the Ernest T. Stewart Award for Alumni Volunteer Involvement, has served in numerous volunteer leadership positions that include president of the Alumni Association Board of Directors, chair of the DePauw University Board of Trustees, and chair of 'The Campaign for DePauw: Leadership for a New Century,' " notes the latest issue of Currents. The magazine is published by the Council for Advancement and Support of Education (CASE), which presented Ubben, a 1958 DePauw graduate, with its 2012 Stewart Award, the highest honor CASE gives to volunteer alumni.
"In 2000, Ubben and his wife, Sharon, gave multiple gifts to endow 15 chairs -- one professorship for each of DePauw's academic departments at the time," notes the publication. "Former U.S. President Bill Clinton, the late former Prime Minister of Pakistan Benazir Bhutto, filmmaker Spike Lee, and prison activist Helen Prejean are among dozens of world leaders, artists, and human rights activists to visit the rural Indiana campus as part of a lecture series endowed by the Ubbens."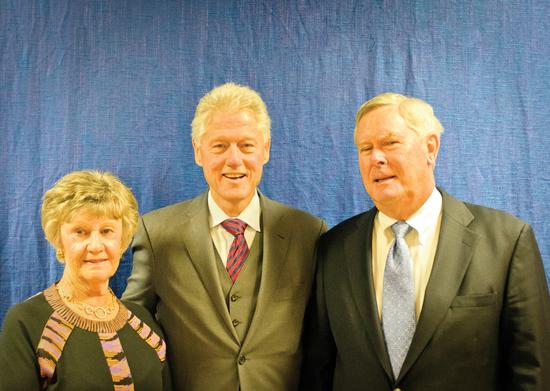 "Tim has shared his time, expertise, resources, and visionary ideas in order to keep a DePauw education rigorous and relevant," DePauw's nineteenth president, Brian W. Casey, tells the magazine. (at left: Sharon and Tim Ubben with Bill Clinton at DePauw; November 18, 2011)
The piece is available to subscribers via this link. Learn more in this previous article.
Tim Ubben was honored at a luncheon on Monday, July 16, in conjunction with the CASE Summit for Leaders in Advancement in Washington, D.C. A video which was created for the event can be viewed below.
In May, Tim and Sharon Ubben received honorary doctoral degrees at DePauw's commencement ceremonies. A summary is available here, with video available below.
Back