Turkish Newspaper Shows DePauw Team Contributing to Archaeological Project
August 13, 2012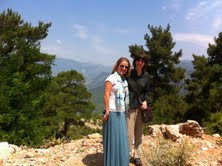 The contributions of a DePauw University professor and two of his students to a research project in Turkey are featured in a video posted at the website the Turkish newspaper Hürriyet, which translates to "Liberty." The piece shows Pedar Foss, Edwin L. Minar Professor of Classical Studies and dean of academic life, working with undergraduates Danica Andersen and Kathleen Raymond-Judy on the project earlier this month. (photo, l-r: Andersen and Raymond-Judy)
The team worked in southwest Turkey in the ancient region of Lycia on the Çaltilar Archaeological Project, which involves researchers from other colleges and universities.
"The Çaltilar Archaeological Project is a multidisciplinary research agenda to study the developmental relationship between topography and human settlement in an upland Turkish river valley system from the 4th millennium B.C. to the 1st millennium A.D.," says Dr. Foss. "As this area is a corridor between coastal settlements (which interface with the wider Mediterranean world), and the Anatolian plateau (the locus of great continental powers of western Asia), we can study local rural development in the context of broader economic and cultural exchange.
We use GPS-aided survey, geophysical and geomorphological prospection, pottery studies, and the recording of ancient rock-cut art to understand how people in the past used their world, marked it, and competed for it. This work is essential because looting, destruction, farming, and quarrying is rapidly wiping out those past traces, which can never be recovered if we don't act quickly."
He points out, "The shot of the 3-D mound on the computer screen near the end is the result of our GPS survey that we carried out, as we attempt to recreate and 'repopulate' the ancient landscape based on the artifacts that still exist on the surface of the ground."
See the video at the newspaper's website, and learn more about the project here.
Earlier this summer, Professor Foss and the students engaged in an archaeological dig at the site DePauw's Minshall Laboratory, which was razed in the 1970s.
Back