Amy Irby-Shasanmi '05 Receives ASA Minority Fellowship
August 15, 2012

Amy Irby-Shasanmi, a 2005 graduate of DePauw University, has been named a 2012-13 American Sociological Association Minority Fellow. Currently working toward her doctoral degree in sociology at Indiana University-Bloomington, Irby-Shasanmi is one of eight new Fellows. The program "consists of Ph.D. candidates with strong and diverse sociological research interests," according to ASA.
The new Fellows began the program on August 1 and are attending the ASA's 2012 annual meeting in Denver.
A sociology major at DePauw, Irby-Shasanmi has worked at a group home for at-risk youth as a resident advisor. "With these youth, she became aware of negative public attitudes toward mental illness and saw the effect stigma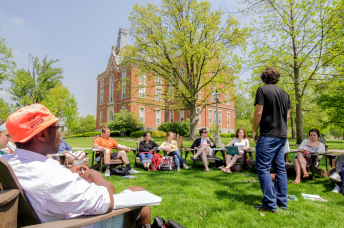 had on their lives," notes ASA's website. "In this regard, her applied work experience is an integral part of her understanding of issues surrounding health. As a scholar, she seeks to understand the interrelated roles of race/ethnicity, social relationships, and stratification in shaping health disparities."
Read more by clicking here.
Back