617 New Students Promised "Opportunity to Transform Yourself" as Class of 2016 is Welcomed to DePauw
August 18, 2012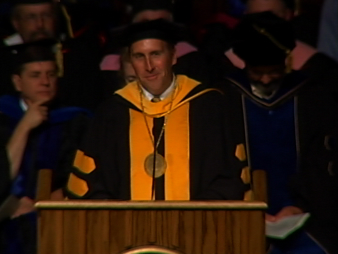 "Here's the great secret of college –- the hidden clue," DePauw University's nineteenth president, Brian W. Casey, told the Class of 2016 at this afternoon's opening convocation. "You're not always expected to have it figured out right away. If you're open and brave about things, it all comes together."
The University, which is celebrating its 175th anniversary, welcomed 617 new students to campus today. After spending the day unpacking and moving into residence halls and meeting new friends, the students processed through campus, led by the president, and were greeted by a cheering faculty at the Green Center for the Performing Arts, where this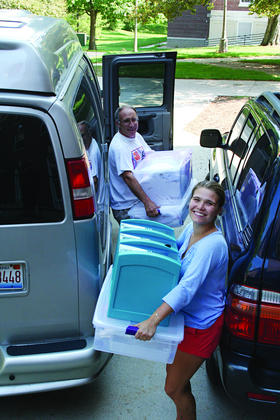 afternoon's program took place in Kresge Auditorium.
The 617 students were selected from roughly 5,000 applications for admission and come from 47 states and 34 foreign countries.
The Class of 2016 ranks as one of the most academically gifted DePauw has ever assembled -- 57% of the freshmen ranked in the top 10% of their high school class, and over 87% ranked in the top 25%. Sixty-five scholars maintained straight "A" averages throughout their high school career. Twenty-seven members of the Class of 2016 were named either valedictorian or salutatorian of their high schools.
DePauw's 176th entering class includes 76 students (11.8%) from countries outside the United States, while 18.7% of the incoming undergraduates are Americans from diverse backgrounds; all told, nearly one in every three of the new students come from diverse backgrounds.
Alumni ties are strong among the entering class. Seventy-seven of the incoming students have a parent or grandparent who graduated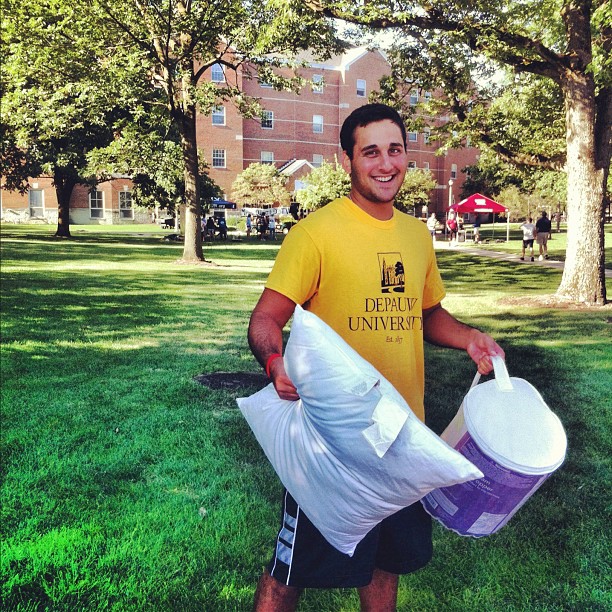 from DePauw; one student's mother, father, grandfather, grandmother and great aunt all graduated from the University.
One-hundred-seventy-two of the students were named captain of a sport in high school. one female was named senior captain of three different sports.
"There are few moments in life when before and after are so clearly visible to each other, separated by one moment. You woke up this morning in a true before. And when you leave this hall -- in just a few minutes, really -- you will begin an amazing after. As you get older you will find yourself constructing the story of your life with certain signposts and touchstones, and you will reach back to certain days. Today is one of those days. The phrase 'when I went to college' has now entered your own personal story, the narrative of your life. That moment is right now. And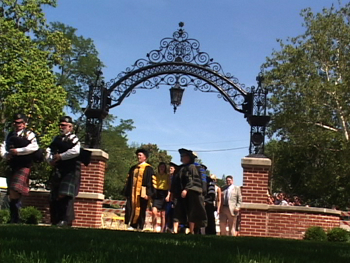 everyone who has ever been so lucky to leave home to attend a college remembers this day, this moment."
President Casey urged the students to speak their minds and ask questions, and to get to know their professors. In college and in life "there are always mistakes," he said. "And the point of an education -- a life really -- is that the mistakes as well as the triumphs, and the befores and the afters, begin to make patterns, they begin to make a life you can shape and understand. They begin to make you, you. So don't worry about the mistakes. Or those moments when you don't have it all figured out."
"Amazing things happen at DePauw," Erik J. Wielenberg, Johnson Family University Professor and associate professor of philosophy told the new students. "You have to do your part to make these amazing things happen to you."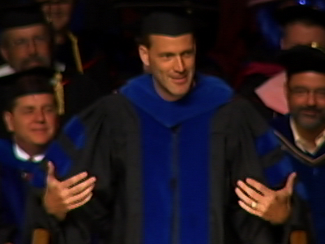 Dr. Wielenberg, who chairs DePauw's philosophy department, was selected in the spring by last year's senior class to address the incoming class today. The professor told the young people sitting before him that they are about to begin exercising their minds in new and different ways at "a gym for your mind. The people standing behind me on this stage are sort of like the freakish trainers at the gym. You can't see it, but some of them have huge science muscles; others have huge poetry muscles. We've got historians, biologists, anthropologists, psychologists, musicians: artists and scholars of just about every kind you can imagine. We even have philosophers! And our job is to help you become intellectually ripped. In my thirteen years here, I've seen it happen. I've seen students transformed."
The professor concluded by stating, "This is the first day of your four-year membership at the DePauw gym. But this a special, one-time membership. Once it expires, you can never have another one. Today is the first day of your opportunity to transform yourself. Today is the first day of your opportunity to earn the sacrifices that others have made on your behalf. I'll see you at the bench press."
Sara Scully, a DePauw senior and the student body president, told the Class of 2016, "Classes are small, so you will know your professors, and they will know you -- that's mostly good. Your classes are going to lead you to activities you didn't know existed." She noted, "One hundred seventy-five years of history, culture and tradition have shaped our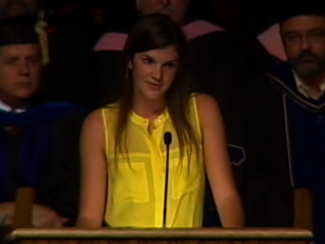 school. As a faithful watcher of ESPN, I love thinking about the fact that one of its founders, Bill Rasmussen, allowed his love for sports to grow while watching the traditional Monon Bell game here. Also as someone who grew up certain I was going to be an astronaut, until I was scared off by Tom Hanks in Apollo 13, I can't believe that on campus last semester I got to speak with Joseph P. Allen, a DePauw alum who logged 314 hours in space and piloted the space shuttle. These experiences are not unique to me; they are common to every DePauw student who takes advantage of what DePauw offers."
An Honor Scholor, Scully advised the new undergraduates, "Immerse yourself in all that this university offers. You have so many people cheering you on -- the president of the University, Dr. Brian Casey, is your biggest fan. The time will go much too fast. Enjoy every minute of it. Welcome class of 2016."
The president told the incoming class, "As shocking as it may seem, in just over 1200 days from now, this class, and this faculty, and your family are going to gather again on this campus. But on that day -- your graduation day -- you'll be wearing robes too. And you're going to walk across a stage, to receive your college degree, and you will have in your head so many memories that you'll think you'll explode."
Dr. Casey concluded, "I can't wait to meet you, to work with you,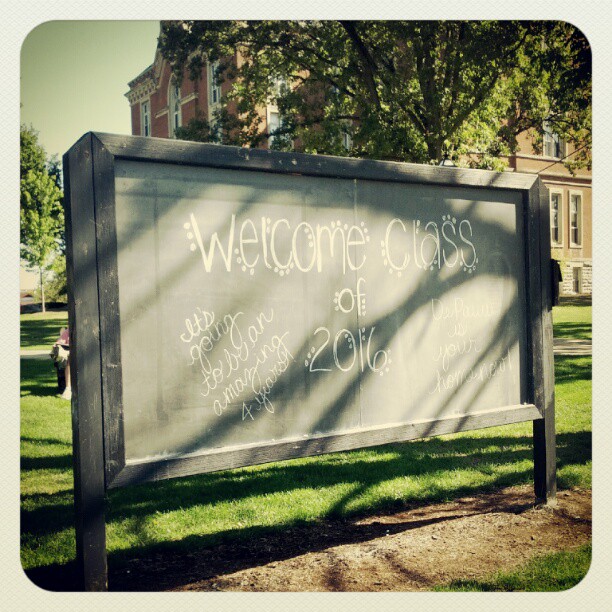 and see how you are going to change us, and change the world."
The audience also heard from Pedar Foss, dean of academic life and associate professor of classical studies; Cindy Babington, vice president for student life and dean of students; and Marcus R. Veatch, a 1975 DePauw graduate and president of the University's Alumni Association.
After the convocation, the new students met with their faculty advisers and began the orientation process before saying farewell to their families. Classes for the 2012-13 academic year begin on Wednesday.
Below is a video montage, which includes footage of the students' procession this afternoon.
You'll find more information here.
Back