Men's Soccer Picked To Finish Second In NCAC Preseason Coaches Poll
August 22, 2012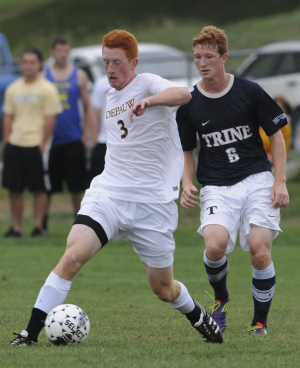 Andy Morrison
Greencastle, Ind. – The DePauw men's soccer squad is picked to finish second by a vote from the league's head coaches in the North Coast Athletic Conference's (NCAC) 2012 preseason poll, which was released earlier today by the conference office.
The Tigers received 84 points and one first-place vote in the poll, trailing only defending national champion Ohio Wesleyan (99 points). DePauw is coming off a 16-3-1 season in which it won the NCAC Tournament and advanced to the NCAA Division III Championship by defeating Ohio Wesleyan.
DePauw looks to replace the loss of two all-Americans from last year, goalkeeper Nathan Sprenkel (Zionsville, Ind./Zionsville) and forward Sam Meyer (Northfield, Ill./New Trier), and get back into the NCAA Championship. After completing a season of professional soccer in the USLPro series, Sprenkel accepted an assistant coach position within the Tigers program.
The goalkeeper position is wide open as returning letterwinners, Tony Halterman (Dyer, Ind./Lake Central) and Stephen Buchholz (Cleveland Heights, Ohio/Cleveland Heights), are battling for time in between the pipes. Last year, in a combined 33 minutes of play, the duo surrendered one goal and tallied two saves.
With the loss of Meyer at the attacking position, sophomore Andy Morrison (Bristol, Ind./Northridge) will be counted on to capitalize on a spectacular freshman season which saw him score 10 times, seven of which were game winners, and drop seven helpers for a combined 27 points.
Another sophomore who will be integral to the team's success is midfielder Nate Snyder (Carmel, Ind./Carmel). Albeit he did start a single game last season, Snyder made his presence felt by notching four goals and a assist and tallying three game-winning kicks.
Junior Louie Souza (Columbus, Ind./Columbus) returns as the stalwart on the back line for the Tigers, starting all 20 games last season on defense. Last year the Tigers allowed less than a goal a game (0.95-goals against average) and only 5.25 shots on goal a contest.
Returning to the pitch this season after missing all of last year due to injury is senior Andrew Desmarais (Wilmette, Ill./New Trier Township). In 2010 he started and played in 17 matches along the Tigers backline, helping to hold opponents to 0.44 goals per game.
The Tigers open the season at home on Boswell Field against Hope College on Aug. 31 at 2 p.m.
Stay tuned to www.depauw.edu/athletics for all your DePauw athletics news and follow the Tigers on twitter (@DePauwAthletics) for up-to-the-minute updates.
Back