Lee Hamilton '52 to Speak at Indiana State U, September 20
September 9, 2012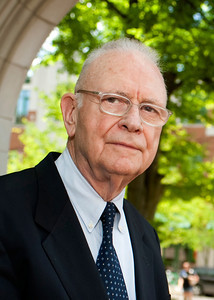 Lee H. Hamilton, the 1952 DePauw University graduate who served for more than three decades in the U.S. House of Representatives and later co-chaired the 9/11 Commission and Iraq Study Group, will open the 2012-13 season of the University Speakers Series at Indiana State University. Hamilton will make his presentation September 20 at 7 p.m. in University Hall Theater. The program is free and open to all.
"Hamilton represented Indiana's ninth congressional district for 34 years beginning January 1965," notes ISU's announcement. "He served as chairman and ranking member of the House Committee on Foreign Affairs, chaired the Subcommittee on Europe and the Middle East, the Permanent Select Committee on Intelligence, the Select Committee to Investigate Covert Arms Transactions with Iran, the Joint Economic Committee, and the Joint Committee on the Organization of Congress. As a member of the House Standards of Official Conduct Committee, he was a primary draftsman of several House ethics reforms."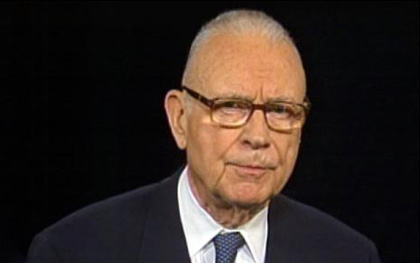 Now director of the Center on Congress at Indiana University, Hamilton remains active in government affairs. "He is currently a member of the President's Intelligence Advisory Board, the President's Homeland Security Advisory Council, the CIA External Advisory Board, and the U.S. Department of Homeland Security Task Force on Preventing the Entry of Weapons of Mass Effect on American Soil. He serves as co-chair of the U.S. Department of Energy's Blue Ribbon Commission on America's Nuclear Future with General Brent Scowcroft; with Justice Sandra Day O'Connor, he is co-chair of the National Advisory Committee to the Campaign for the Civic Mission of Schools."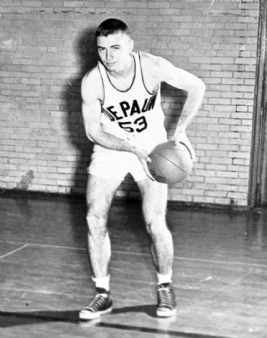 Read more here.
Lee Hamilton has been a frequent visitor to DePauw over the years, having delivered commencement addresses in 1971 and 1998. He also was among the presenters at DePauw Discourse in 2006 and 2008 and delivered an Ubben Lecture on March 15, 2011.
Hamilton majored in history as an undergraduate and starred on the Tiger basketball team (and is a member of both the Indiana Basketball Hall of Fame and the DePauw Athletic Hall of Fame). He writes regular op-ed columns, the most recent of which is summarized here.
Newsweek has called Lee Hamilton "Mr. Integrity," while USA Today noted that the veteran statesman "is one of the last of the Washington 'wise men,' figures who ruled Congress, led Cabinet agencies and shaped foreign policy during a less partisan era."
Back