Former VP Dan Quayle '69 Discusses Campaign '12 with Washington Times
September 12, 2012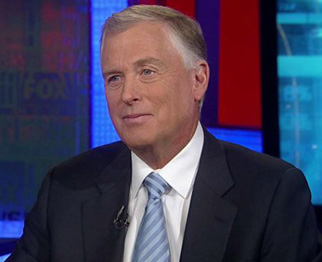 "Where's the optimism, where's the simplicity of the candidates message in this year's race?," asks Dan Quayle in a conversation with the Washington Times. "Voters pay attention to such things, and I think both are missing from the campaign trail," America's forty-fourth vice president tells the newspaper.
Quayle, a 1969 graduate of DePauw University, adds, "Everybody knows we've got a bitter pill to swallow as far as the economy goes. But the reality is we've got to grow the economic pie here, and we've got to create a society of opportunity for all Americans."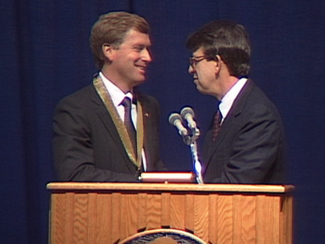 Access the article at the newspaper's website.
Dan Quayle, who was elected to two terms in each the U.S. House of Representatives and U.S. Senate before becoming vice president, is now chairman of Cerberus Global Investments. A member of DePauw's Athletic Hall of Fame, Quayle captained the Tiger golf team and was a political science major.
On October 26, 1990, the vice president was awarded his alma mater's McNaughton Medal for Public Service. A video montage of that visit, which included a speech in a jam-packed Neal Fieldhouse, is embedded below.
In June, Quayle and Vernon Jordan '57 spoke at a New York City event held as part of DePauw's 175th anniversary celebration. Learn more in this previous story.
Back