Seth Elder '08 Named Southeastern Office Director for Indiana Landmarks
September 20, 2012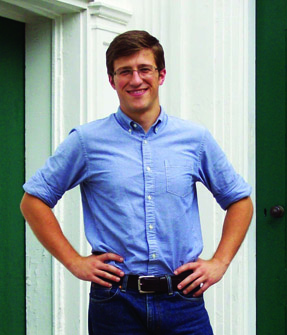 Seth C. Elder, a 2008 graduate of DePauw University, has been hired by Indiana Landmarks to direct its southeast field office and Veraestau, a historic site in Aurora. In his role, Elder will "oversee the nonprofit organization's work to save historic places and revitalize communities in four southeastern Indiana counties (Dearborn, Ohio, Ripley and Switzerland)," notes an announcement.
A Latin major and Honor Scholar at DePauw, Elder is pursuing his master's degree in historic preservation from Ball State University. "While in graduate school, he completed internships with Historic Madison, Inc., and Ol' House Experts, a specialty window restoration firm. He also has worked in his family's restaurant and inn located in a nineteenth-century row house on the Ohio River in Rising Sun," according to Indiana Landmarks.
"We're fortunate to have found a person so uniquely suited to this position and place," says Marsh Davis, president of Indiana Landmarks. "Seth Elder brings strong
academic and internship credentials enhanced by life-long ties to the area and to historic preservation."
An October 2 reception at Veraestau will allow members of the public to meet with Elder. Reservations are required and may be made online.
Indiana Landmarks revitalizes communities, reconnects people to heritage, and saves meaningful places. With nine offices located throughout the state, Indiana Landmarks helps people rescue endangered landmarks and restore historic neighborhoods and downtowns.
Learn more at Indiana Landmarks' website or by calling (800) 450-4534.
Back