Sunday's Orchestra Concert to Recognize DePauw's 175th Anniversary
September 20, 2012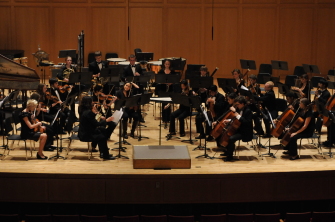 Noting the 175th Anniversary of DePauw University, the DePauw Orchestra will open its season this Sunday, September 23, with a concert celebrating music of the nineteenth century, particularly the 1830s. The 3 p.m. program will take place in Kresge Auditorium, located within DePauw's Green Center for the Performing Arts.
Orcenith Smith will conduct the performance, which begins with French composer Daniel Auber's overture to the opera Fra Diavolo, followed by excerpts from the Orchestral Suites, BWV 1066-1069 by J.S. Bach and the intermezzo from the opera Cavalleria Rusticana by Pietro Mascagni. The afternoon program will culminate in a performance of English composer Sir Edward Elgar's Variations on an Original Theme, a set of 14 small pieces commonly known as the "Enigma Variations."
While Indiana Asbury (now known as DePauw) welcomed its first professor and students in 1837, Auber's "Brother Devil" was wildly successful in Europe -- making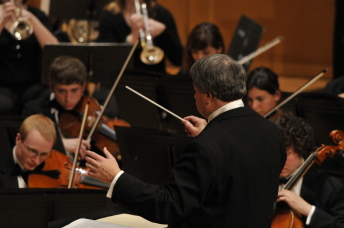 its way to New York in just two years, as a consequence of his clever and energetic use of melody.
This college's founding as "an ecumenical institution of national stature" would subsequently create need for sacred music by composers such as Johann Sebastian Bach, whose work had not been fully discovered by Europe until composer Felix Mendelssohn brought it to the attention of audiences in 1838. The DePauw Orchestra's performance of J.S. Bach's orchestral suites celebrates that rediscovery.
"As we begin the year, we survey literature appropriate for the student musicians, enjoyable for our audience, and relevant to topics of interest," Professor Smith states of the selection of music for the opening concert. "The Auber and the Bach find their connection to the audience by placing in an historical context what was going on in classical music at the time DePauw University was being founded. The one-act opera Cavalleria Rusticana, a masterpiece in the Italian verismo style, contains not only one of the world's most famous melodies, but is also a nod to all college students, who, like the composer of this intermezzo waited to turn in his finished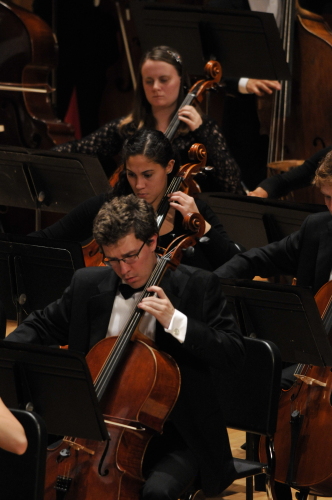 opera project to a competition at the very last minute. Sometimes, those projects are not the best, but sometimes they are inspired, like this one."
The final work on the program, Elgar's Variations on an Original Theme, connects to college life also, according to Smith, as it is about developing friendships and relationships. Each exquisitely and humorously rendered movement is dedicated to a friend and denotes personal characteristics and traits of these acquaintances -- including a mysterious unnamed romanza know only by the title "***".
General admission tickets for DePauw Orchestra performances are $3; tickets for all students and seniors over 65 are free. For additional information or assistance, stop by the box office located on the ground floor of the Green Center (605 S. College Avenue). It is open Monday-through-Friday from 12 p.m. to 4 p.m. and 6 p.m. to 8 p.m. Call (765) 658-4817 or order tickets online.
Founded in 1884, the DePauw University School of Music is the nation's sixth-oldest private institution for post-secondary music instruction and the longest-running in Indiana. Learn more here.
Learn more about DePauw's 175th anniversary celebration by clicking here.
Back