DePauw Blanks Denison in Overtime for Sixth Straight Win
September 22, 2012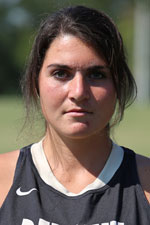 Granville, Ohio - Chelsea Cutler's goal off of a penalty corner in the first overtime lifted DePauw to a 1-0 North Coast Athletic Conference win at Denison.
The Tigers improved to 7-1 overall and 5-0 in conference play with their sixth straight win, while the Big Red drops to 5-3 overall and 3-2 in NCAC play.
Cutler's goal, her fourth of the season, came at 75:43.
The Tigers held a 13-3 shots advantage including an 8-1 edge in shots on goal. They also had a 12-4 lead in penalty corners.
Maggie Steele totaled one save in notching her fourth straight shutout, while Denison's Brittany Benson had six saves.
DePauw hosts Ohio Wesleyan at 1 pm. on Sunday.
For more information on the DePauw field hockey program, follow DePauw on Twitter (@DePauwAthletics / @DePauwFH) or like them on Facebook (www.facebook.com/DePauwAthletics).
Back