DePauw Grabs 13-stroke Lead at Small College Classic; Romero Leads Individually
September 22, 2012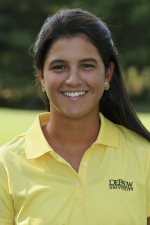 Clayton, Ind. - DePauw shot an opening-round 329 and leads the DePauw Small College Classic by 13 strokes over Wittenberg. Hanover is in third with a 348. Second and final round play at the Deer Creek Golf Club begins tomorrow morning.
The Tigers' Camila Romero leads the field with a 78 on a windy, cool day. Brooke McKay of Hanover is second with an 80.
Other DePauw scores included Kelsey Smith in third with an 82 followed by Brooke Hasler in sixth at 84 and Sam Stahler in 10th with an 85. Playing as an individual, Kate Burklow shot an 89.
Among the afternoon's highlights was Denison's Elizabeth Tristano carding an ace on the 117-yard, par-3 11th hole.
                         DePauw Small College Classic  
                         Deer Creek Golf Club     Clayton, IN    
                         Dates: 08/22 - 08/23     (Today:09-22-2012)
                                   Par:        72                
                                   Yardage:  5803                

      Fin.   School                   Scores  

         1   DePauw University        329    
         1    Camila Romero            39- 39      78
         3    Kelsey Smith             39- 43      82
      T  6    Brooke Hasler            42- 42      84
      T 10    Samantha Stahler         44- 41      85
        DQ    Paige Gooch                  

         2   Wittenberg Univ.         342    
      T  4    Carolyn Wong             42- 41      83
      T 10    Nicole Waers             42- 43      85
      T 15    Allie Lawwill            45- 42      87
      T 15    Maggie Smith             42- 45      87
      T 18    Rachel Steiner           42- 47      89

         3   Hanover College          348    
         2    Brooke McKay             38- 42      80
      T  6    Rebecca Roberts          41- 43      84
      T 18    Sloane Hamilton          43- 46      89
      T 32    Brittany Mosteller       48- 47      95
      T 34    Erika Shepherd           44- 52      96

         4   St Mary of the Woods     352    
      T  6    Sloane Engle             40- 44      84
      T  6    Kelsey Fuqua             44- 40      84
        22    Katelyn Gosnell          44- 46      90
      T 27    Morgan Patterson         45- 49      94
      T 55    Abby Abel                53- 50     103

         5   Denison University       359    
      T  4    Brynn FitzGerald         43- 40      83
      T 18    Stacey Adams             43- 46      89
      T 24    Elizabeth Tristano       47- 46      93
      T 27    Carly Schultz            50- 44      94
      T 34    Rebecca Rabb             48- 48      96

         6   Ohio Wesleyan Univ.      381    
        23    Sarah McQuade            46- 45      91
      T 27    Amy Greenblott           45- 49      94
        38    Courtney Tincher         51- 46      97
      T 39    Amy Greenwood            49- 50      99
      T 50    Ashley Saylor            54- 47     101

         7   Franklin College         383    
      T 12    Avery Brown              44- 42      86
      T 34    Hayley Tiberghein        52- 44      96
      T 39    Corie Walton             47- 52      99
      T 52    Ashley Konsdorf          50- 52     102
      T 62    Morgan Whitaker          57- 49     106

      T  8   Rose Hulman Institut     391    
      T 27    Jacklyn Smith            48- 46      94
      T 39    Emily Barker             48- 51      99
      T 39    Hayley Vonder Haar       50- 49      99
      T 39    Miriam Remmers           49- 50      99
      T 48    Deanne DeKeizer          49- 51     100

      T  8   Mount St. Joseph Col     391    
        17    Jennifer Trame           42- 46      88
      T 39    Kasey Dunn               49- 50      99
      T 39    Katy Guertin             49- 50      99
      T 58    Christen Riedl           55- 50     105
        66    Whitney Mueller          54- 56     110

        10   Manchester Univ.         402    
      T 24    Carly Clock              47- 46      93
      T 50    Aubrey Mills             51- 50     101
      T 52    Laurisa Richard          54- 48     102
      T 62    Miranda DeHart           54- 52     106
        WD    Amber Melick                 

        11   Transylvania U.          403    
      T 24    Tiara Harris             50- 43      93
      T 39    Jerra Kelsey             48- 51      99
      T 58    Sarah Fuller             52- 53     105
      T 62    Cayla Combs              54- 52     106
        65    Alyssa Thompson          58- 49     107


   Fin.   Individuals            School       Scores  

   T 12   Krista Zurcher         AndersonIN    44- 42      86
   T 12   Deanna Mychalishyn     Wittenberg    44- 42      86
   T 18   Kate Burklow           DePauw        45- 44      89
   T 27   Miranda Pettit         Wittenberg    45- 49      94
   T 32   Bridget Neal           Hanover       47- 48      95
   T 34   Shelby Schneider       Hanover       47- 49      96
   T 39   Jennifer Vogel         MtStJoseph    51- 48      99
   T 48   Sara Treash            MtStJoseph    54- 46     100
   T 52   Savannah Fox           Wittenberg    48- 54     102
   T 55   Lauren Flores          AndersonIN    48- 55     103
     57   Kendyl Bourne          Hanover       50- 54     104
   T 58   Rachel Helt            Hanover       56- 49     105
   T 58   Abby Bettner           MtStJoseph    52- 53     105
     67   Alli Lindenschmidt     Hanover       56- 59     115
     68   Chloe LaVelle          RoseHulman    60- 64     124
     69   Samantha Springer      RoseHulman    63- 69     132
     70   Sarah Jeffers          AndersonIN    81- 75     156

                      GOLFSTAT COLLEGIATE SCORING SYSTEM      
                     Developed by: Mark Laesch, Golfstat          
               COPYRIGHT (C) 2005, All Rights Reserved, Golfstat  

            Check out Stats, Scores, and More:    www.GOLFSTAT.COM

Back