Tigers Stay Perfect in NCAC and Preserve Shutout Streak
September 23, 2012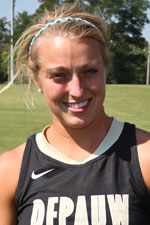 Greencastle, Ind. - Margaret Ellis scored on an assist from Maggie Campbell in the first overtime to lift DePauw to a 1-0 North Coast Athletic Conference win over visiting Ohio Wesleyan.
DePauw improved to 8-1 overall and 6-0 in conference play, while the Battling Bishops dropped to 3-4 overall and 2-3 in the NCAC. The Tigers extended their win streak to seven straight and their shutout string to five. Additionally, DePauw hasn't been scored upon in its six conference matches.
Ellis' goal, her 13th of the season and fourth game winner, came with 4:21 left in the first extra session and lifted the Tigers to the win. Campbell now shares the team lead with five assists.
The Tigers dominated play throughout with a 31-0 shots advantage including 10-0 in shots on goal. DePauw also led in corners, 23-0.
Maggie Steele notched the shutout for DePauw, while Karson Stevenson had eight for Ohio Wesleyan. Jenna Ortega had a defensive save in the loss as well.
DePauw returns to action on Saturday, September 29, when it travels to Kenyon.
For more information on the DePauw field hockey program, follow DePauw on Twitter (@DePauwAthletics / @DePauwFH) or like them on Facebook (www.facebook.com/DePauwAthletics).
Back