Admission Officer "Soup" Campbell Quoted in Newspaper Article
September 27, 2012
"In an era where information of all kinds is available through the Internet, there is still something to be said about face-to-face gatherings," begins a Jeffersonville News and Tribune story on yesterday's Southern Indiana College Fair. "Almost 1,000 students and parents from 18 Southern Indiana high schools hoped to have their questions answered at the annual fair which attracted more than 70 colleges and universities -- including some as far away as the University of Alabama."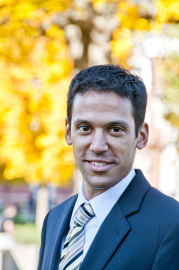 Chris Morris reports, "Harold 'Soup' Campbell, assistant director of admissions and social medial communications coordinator at DePauw University, said college fairs are still important, both to students and universities."
Campbell tells the newspaper, "Everything is on the Internet. You can go to our website and find everything you need to know. But college fairs haven't died off ... it's good to hand out materials and talk to students. As long as students show up, we will show up."
Read more at the paper's website.
You're also invited to visit DePauw's Office of Admission online.
Back