Video Featuring Two Professors Wins Regional Emmy Award
September 30, 2012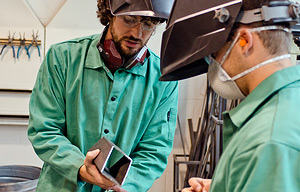 A video featuring two DePauw University professors has won a Mid-America Emmy Award in the "Informational/Instructional Feature" category. Daniel G. Gurnon, associate professor of chemistry and biochemistry, and Jacob K. Stanley '05, who served as a part-time assistant professor of art, are seen in Sculpting Proteins, which was produced by Steve Drake of the Beckman Institute for Advanced Science and Technology at the University of Illinois at Urbana-Champaign. The award was presented last weekend in Kansas City.
"The winning video features Beckman physicist Klaus Schulten and his fellow researchers at the Beckman Institute who have created a computational microscope that can accurately follow the previously unknowable molecular motion that takes place inside living cells," notes an announcement from U of I. "The video shows how these movie-like visualizations inspired physicist-turned-artist Julian Voss-Andreae and DePauw University professors Daniel Gurnon and Jacob Stanley to create a series of steel sculptures depicting the birth of the villin headpiece protein and how it folds into its native state, trillionth of a second by trillionth of a second."
Read more here. The video is embedded below.
Another video of Gurnon and Stanley was featured during last November's national telecast of the Monon Bell Classic. It, too, is available for viewing below.
Back