DePauw Band Performs at 3 p.m.; Hear it Live on WGRE
October 7, 2012
Today's concert by the DePauw University Band can be heard anywhere in the world via student radio station WGRE. The 3 p.m. performance, which takes place in DePauw's Kresge Auditorium, can be heard on 91.5 FM on on the Internet via this link.
The repertoire to be performed by the band, conducted by Craig Paré, includes Windsprints by Richard Saucedo; American Overture for Band by Joseph Wilcox Jenkins; October by Eric Whitacre; Starsplitter by Philip Rothman; a chamber work for winds titled Dectet by Alex Murray; and The Screamer by Indiana composer Fred Jewell.
The program will conclude with a rousing transcription of a well-known orchestral work, the finale from Symphony No. 4 by Pyotr Ilyich Tchaikovsky.
"The Tchaikovsky is definitely a showpiece for this year's University Band," says Dr. Paré. "The ensemble's technique is put to the test in a piece like this, which features fast-moving,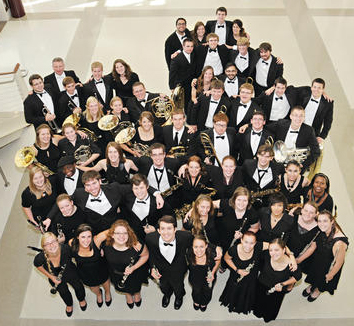 fluid scalar passages that are a trademark of Tchaikovsky's music."
A new component is also being added to the University Band program this year: the introduction of a Wind Ensemble, a smaller chamber group composed of members of the University Band.
"Through an audition process, members of the University Band are selected for a finite number of openings in the Wind Ensemble, which will be a separate ensemble beginning next year," Paré notes. "The new ensemble's repertoire will feature works with instrumentation for 6-40 musicians. The chamber piece on Sunday's program, for example, is written for a combination of two flutes, two oboes, two clarinets, and soprano, alto, tenor, and baritone saxophones. Other pieces to be performed later this year will include other variations of instrumentation and a larger number of Wind Ensemble members."
General admission tickets for today's concert -- available here -- are $3; tickets for all students and seniors older than 65 are free. In lieu of an admission fee, the band is also accepting donations of non-perishable food items for the benefit of the Putnam County Emergency Food Pantry.
Back