DePauw Blanks Ohio Wesleyan; Improves to 2-1-1 in NCAC
October 6, 2012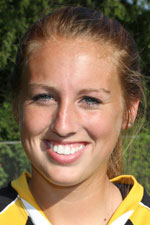 Delaware, Ohio - Megann Lear's goal on Dana Sprague's assist just 7:36 into the contest gave DePauw a 1-0 North Coast Athletic Conference win at Ohio Wesleyan.
The Tigers improved to 2-8-1 overall and 2-1-1 in NCAC play, while the Battling Bishops dropped to 3-8-1 overall and 0-2 in the NCAC.
The goal was the first of Lear's (pictured) collegiate career.
Ohio Wesleyan held a 20-10 edge in shots including an 8-4 edge in shots on goal. DePauw, however, led in corners, 6-3.
Caroline Kerr recorded eight saves and posted her third shutout in the last four matches. Hannah Zacharias totaled three saves for the Battling Bishops.
DePauw returns to action on Saturday, October 13, when it hosts Wooster at Noon
For more information on the DePauw women's soccer program, follow DePauw on Twitter (@DePauwAthletics / @DePauwWSoccer) or like them on Facebook (www.facebook.com/DePauwAthletics).
Back