O'Brien Named NCAC Runner of the Week
October 10, 2012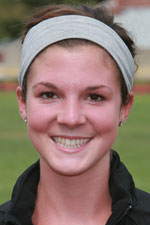 Greencastle, Ind. - DePauw freshman Heather O'Brien (Indianapolis/Bishop Chatard) has been named the North Coast Athletic Conference Women's Cross Country Runner of the Week for her performance at the Gibson Family Pre-National Invitational.
O'Brien was the Tigers' top finisher with a 25th-place showing out of 325 runners completing the five-kilometer course with a time of 23:00.5. The Tigers placed 13th as a team with O'Brien's help.
She has been the Tigers' top finisher in each of three meets with 16th- and 23rd-place performances earlier this fall.
DePauw returns to action on Saturday, October 13, at the Brooks Invitational in Oshkosh, Wis.
For more information on the DePauw cross country program, follow DePauw on Twitter (@DePauwAthletics / @DePauwXCTF) or like them on Facebook (www.facebook.com/DePauwAthletics).
Back