Droddy Earns Second Weekly NCAC Honor this Fall
October 10, 2012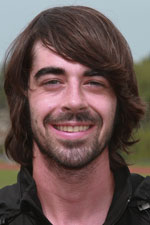 Greencastle, Ind. - DePauw senior Noah Droddy (Sr., Indianapolis/International School) has been named the North Coast Athletic Conference Men's Cross Country Runner of the Week for the second time this season. Droddy earned the award for his performance at the Gibson Family Pre-National Invitational.
Droddy helped the Tigers to a 15th-place finish with his individual victory out of 376 runners completing the eight-kilometer course with a time of 25:13.7.
Last year, Droddy earned first team all-NCAC honors with a third-place finish at the conference meet with a time of 25:25.6. He also earned all-America accolades with his ninth-place showing at the NCAA Division III Championships in a time of 24:23.92.
DePauw returns to action on Saturday, October 13, at the Brooks Invitational in Oshkosh, Wis.
For more information on the DePauw cross country program, follow DePauw on Twitter (@DePauwAthletics / @DePauwXCTF) or like them on Facebook (www.facebook.com/DePauwAthletics).
Back