Column on Format of Debates Quotes DePauw Student, Two Professors
October 11, 2012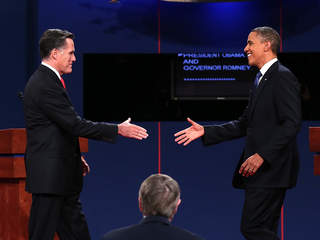 "You're a contestant in a debate, with 20 minutes to prepare for an hourlong argument on a surprise topic -- eliminating the World Bank," writes Mark Bennett in today's Terre Haute Tribune-Star. "If you're wondering, 'What exactly is the World Bank?' then you understand what Jimmy Kirkpatrick and his fellow members of the DePauw University debate team felt in real life ... That scenario, last spring, was no dream. Kirkpatrick and his cohorts tackled the subject, cold turkey, and won a national collegiate debate championship, beating Boise State in the finals of the Phi Kappa Delta National Comprehensive Tournament in March at Overland Park, Kan. Talk about pressure. President Obama and Mitt Romney have no idea how lucky they are, as debaters."
The columnist writes that the presidential contenders spend weeks preparing for their debates and the two minute responses they'll present. "Collegiate 'forensics' (the formal label for debating) dig deep into one topic for 60 minutes. By the end, the victor is clear. Facial gestures, posture an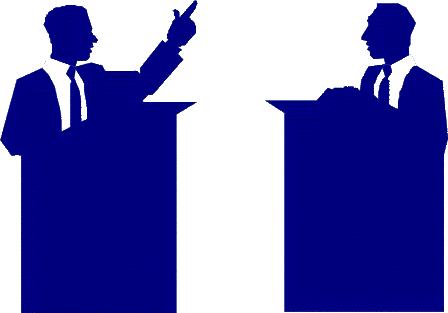 d hair care take a back seat to substance."
"There's more of a burden in the competitive debate," Kirkpatrick, a DePauw senior, tells the newspaper. "The opponent is really invested in answering each and every argument."
The piece also includes remarks from Geoff Klinger, "coach of the DePauw national champ debate team and associate professor of communication at the university in Greencastle," and a 1988 graduate of DePauw. With the format used in presidential and vice presidential debates, "I personally think the end result, what you get, is canned arguments, rather than that extemporaneous discussion which makes a debate interesting."
Jeff McCall '76, professor of communication and author of Viewer Discretion Advised: Taking Control of Mass Media Influences, makes the point (as he did in a r
ecent newspaper op-ed and television appearance) that television puts more of a focus on visuals and theatre, and not as much on what is being said. "I'm not sure we should be making our decisions based on those kind of visuals, when we should be basing them on ideas and words," Dr. McCall says. Bennett writes, "[The professor] recommends a reworking of the debate format by reducing the role of the moderator, or eliminating that position altogether, and having the candidates directly question and rebut each other. McCall also thinks one, or all, of the debates should be limited to radio broadcasts, rather than TV. He acknowledged, though, 'that we live in such a visually cultured world, [and] it would be very difficult for us to backtrack.' "
You'll find the complete piece, which includes other DePauw references, at the Tribune-Star's website.
Source: Terre Haute (Ind.) Tribune-Star
Back