Tigers Extend Win Streak to 13 with Season's 11th Shutout
October 14, 2012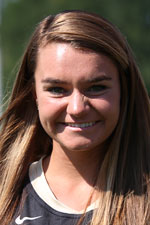 Greencastle, Ind. - Maggie Campbell scored a pair of goals and the Tigers posted their 11th shutout as DePauw blanked Wooster by a 2-0 score.
DePauw improved to 14-1 overall and 11-0 in the North Coast Athletic Conference with its 13th straight win and fifth consecutive shutout. Wooster dropped to 8-6 overall and 7-4 in league play.
Campbell (pictured) entered today's game with one goal in the season and delivered the eventual game winner just 8:29 into the contest on Paige Henry's assist. Her second score came with just 4:22 left in the second half.
The Tigers outshot Wooster 19-1 and held a 9-0 advantage in shots on goal. The Tigers also led in corners, 10-1.
Maggie Steele posted her 11th shutout in goal for DePauw, while Wooster's Carrie Mount totaled seven saves.
With the win, DePauw clinched a spot in the four-team NCAC Tournament which starts in two weeks. The Tigers travel to Earlham on Wednesday, October 17, for a 4:30 p.m. contest.
For more information on the DePauw field hockey program, follow DePauw on Twitter (@DePauwAthletics / @DePauwFH) or like them on Facebook (www.facebook.com/DePauwAthletics).
Back