See ESPN Founder Bill Rasmussen's ('54) Interview with Inside Indiana Business
October 15, 2012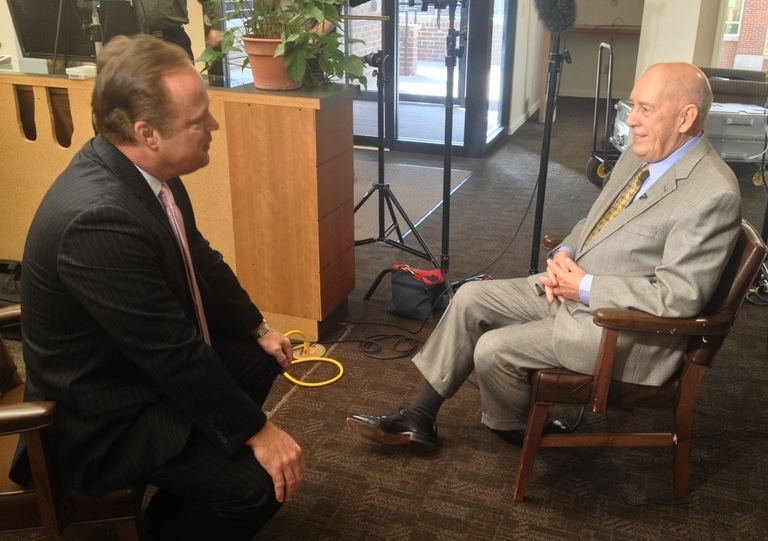 "Today, it is an iconic sports and entertainment brand that stretches across 7 continents, but in the 1970s, ESPN was a crazy idea that was being pitched to cable operators by Bill Rasmussen, a DePauw University graduate," reported Gerry Dick on his statewide television program. In a segment that ran over the weekend on Inside Indiana Business, Dick noted, "The man who launched a sports empire has been back on the Greencastle campus as an executive in residence and when I sat down with him this week, he told me his big break came with the arrival of something called a satellite dish."
The interview with Rasmussen, a 1954 graduate of DePauw, was the program's lead story. It is embedded below.
The piece is also available via Inside Indiana Business.com.
Below you'll find the complete interview with Bill Rasmussen.
The Indianapolis Star recently listed Rasmussen as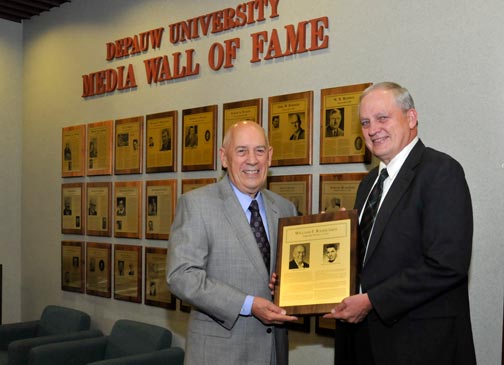 one of "The 20 Most Interesting People Visiting Indy This Fall."
On October 4, Bill Rasmussen delivered a 175th Anniversary Distinguished Alumni Lecture in Kresge Auditorium. Video and audio of that speech can be found via this link (click on the "On Demand" tab and then select the Rasmussen event). He was also inducted into the DePauw Media Wall of Fame during his two-week visit (photo shows Rasmussen with David Bohmer '69, director of the Media Fellows Program and the Pulliam Center for Contemporary Media).
Source: Inside Indiana Business
Back