DePauw Posts Shutout Win at Carthage
October 17, 2012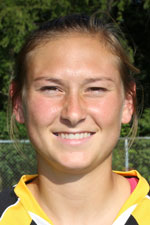 Kenosha, Wis. - Dana Sprague's goal on Megann Lear's assist at 15:03 pushed DePauw to a 1-0 win at Carthage. The Tigers improved to 3-9-1, while the Lady Reds dropped to 4-8-4.
Each team had 10 shots, but DePauw held a 10-3 advantage in shots on goal. DePauw also led in corners, 4-3.
Emma Cooper posted three saves in recording the shutout, while Abby Alm had nine saves for Carthage.
The Tigers return to North Coast Athletic Conference play on Saturday, October 20, when they travel to Oberlin for a 4:30 p.m. contest.
For more information on the DePauw women's soccer program, follow DePauw on Twitter (@DePauwAthletics / @DePauwWSoccer) or like them on Facebook (www.facebook.com/DePauwAthletics).
Back