Change in Your Pocket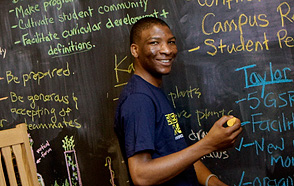 October 25, 2012
Senior Henry K. Dambanemuya is a DePauw Presidential Ambassador, an Honor Scholar and a citizen of Zimbabwe. He's also a Liberty Mutual Responsible Scholars Ambassador and an intern at The Janet Prindle Institute for Ethics. There are many things that combine to make Dambanemuya an interesting person, but the one that gets the most attention started out in a pretty ordinary way.
He read a book.
Co-authored by actor Don Cheadle and activist John Prendergast, Not On Our Watch recounts heart-wrenching atrocities taking place in a number of African nations. The stories compelled Dambanemuya to take action for the first time in his life, beginning with an issue not so far from his studies as a computer science major.
Sometimes the discovery of a valuable natural resource is a boon for a developing country. That wasn't the case in the Democratic Republic of Congo. Eastern Congo is saturated with metals that are essential in the production of technologies such as mobile phones and laptop computers. The mines where these metals are extracted, however, are controlled by warring factions who use the profits to grow their arsenals and, through unspeakable cruelty, their influence. Financed by these so-called conflict minerals, the ongoing violence has resulted in as many as 6-million Congolese civilian deaths and has forced thousands more into labor in the mines.
There are laws both in the United States and elsewhere that prohibit the import of conflict minerals, but when these metals are smuggled out of Africa, they are typically mixed those from other regions, masking their origins. Because of this confusion, it's likely you have conflict minerals on or near you right now.
"What drew me to raising awareness about conflict minerals was the direct connection between the production of electronic products and human devastation in Congo," Dambanemuya says. "Conflicts such as those in Congo are often misunderstood as distant tribal wars that have absolutely nothing to do with us, but in reality, the trail of blood leads directly to our pockets."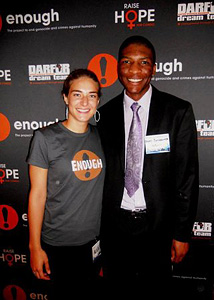 Understanding that manufacturers themselves would need to close this loophole, Dambanemuya launched DePauw's Conflict-Free Campus Initiative, a campaign of Prendergast's Enough Project. Last May, DePauw joined 11 other American colleges in passing a resolution that gives preference to electronics suppliers who are vigilant in preventing the inclusion of conflict minerals in their products.
(Right: Dambanemuya with Alex Hellmuth, campaign organizer for Project Enough's Conflict-Free Campus Initiative, at the 2011 Campus Progress National Conference in Washington, D.C.)
"When you present an issue such as Congo or Sudan, most people are shocked, some are outraged, but very few will act," Dambanemuya says. "It was inspiring to see nearly 200 students, staff and faculty members endorse our conflict-free electronics petition in less than 48 hours."
The issue of conflict minerals has been a major part of Dambanemuya's efforts to end atrocities in the world's most dangerous places, but it was only a starting point. He added conflict studies as a second major to complement his computer science education, and he has since combined the two for Honor Scholar research on early warning systems for civilian protection. These systems would draw information from field reports, text messages, Twitter, news feeds and satellite imagery to alert a monitoring agency of an impending humanitarian crisis while it could still be prevented.
As a result of his work, Dambanemuya is one of seven college students in the United States selected as a 2012-13 Jewish World Watch Fellow, a program for students committed to bringing awareness to and preventing mass atrocities.
In addition to a small honorarium for his research and activism, the fellowship provides Dambanemuya with a budget for on-campus education programs. So far, he has hosted an event about the civil war in Syria, where residential neighborhoods have been bombed by the military, killing more than 30,000 civilians.
This fall he's planning another event in coordination with SumOfUs, a human rights organization founded by the daughter of two DePauw professors, to discuss worker conditions and use of conflict minerals at some of Apple's component manufacturers. Although Apple isn't the only company to face questions about these issues, its products dominate the market and are especially popular with a large number of socially conscious consumers.
"Apple is the elephant in the room," he says. "If we get them to move on these issues, other electronics companies will have to move as well to remain competitive in the market."
Despite all his work – and the recognition he's received because of it – Dambanemuya didn't have to sacrifice his old interests to make room for his activism. He already has a job lined up as an IT analyst in Seattle, but he plans to continue his work on human rights issues as a volunteer with the Canada-based Sentinel Project for Genocide Prevention on his own time. He insists he's just a normal college student, soon to be a normal college graduate, lending his heart and mind to an important cause.
If he's right about the being normal part, the world has a much brighter future ahead.
Back