Gleason Earns NCAC Honors
October 30, 2012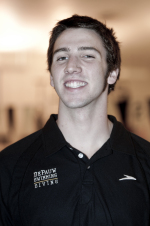 Greencastle, Ind. - DePauw junior Matt Gleason (New Albany, Ohio/New Albany) has been named the North Coast Athletic Conference Men's Swimming and Diving Athlete of the Week for his performance against Washington University.
Gleason helped the Tigers to a convincing 193.5-86.5 victory over Washington University in DePauw's home opener with wins in the 200-yard butterfly (1:55.90), 100-yard butterfly (51.63), and the individual medley (2:01.55).
He also teamed with Matt Kukurugya, Alex Alfonso and Blake Lehmann to win the 200 medley relay in 1:35.55.
The 3-0 Tigers return to action on Saturday, November 3, when they host Wittenberg at 3 p.m.
For more information on the DePauw men's swimming and diving program, follow DePauw on Twitter (@DePauwAthletics / @DPUMensSwimming) or like them on Facebook (www.facebook.com/DePauwAthletics).
Back