Cotherman Named NCAC Player of the Week
October 31, 2012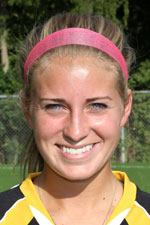 Greencastle, Ind. - DePauw junior Angela Cotherman (Lake Forest, Ill./Brewster Academy (N.H.) has been named the North Coast Athletic Conference Women's Soccer Player of the Week for her performances against Wittenberg and Allegheny.
Cotherman scored all three of DePauw's goals last week in the Tigers' 2-1 loss at Wittenberg and 2-1 overtime victory against Allegheny. Her efforts helped the Tigers secure the fourth seed in the NCAC Tournament.
Her goal in the 22nd minute against Wittenberg gave DePauw a 1-0 lead.
In a must-win game against Allegheny, Cotherman stepped up to score on two free kick opportunities in the contest. Her first goal came in the 86th minute to tie the Gators and the second came just 2:53 into the first overtime,
DePauw returns to action on Thursday, November 1, as it kicks off the NCAC Tournament at Wittenberg. The semifinal contest begins at 7 p.m.
For more information on the DePauw women's soccer program, follow DePauw on Twitter (@DePauwAthletics / @DePauwWSoccer) or like them on Facebook (www.facebook.com/DePauwAthletics).
Back