DePauw Notches NCAC Tournament Championship, NCAA Championship Berth
November 3, 2012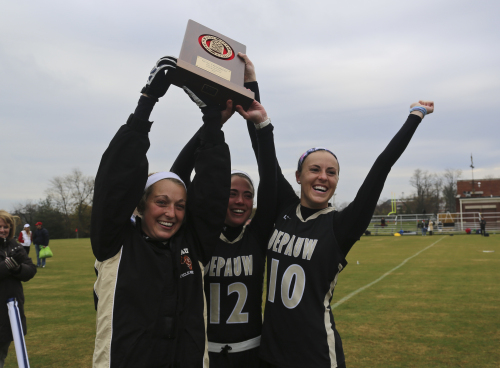 Greencastle, Ind. – DePauw (19-1, 14-0) avenged last season's loss to Denison (15-6, 10-4) in the North Coast Athletic Conference Field Hockey tournament championship game with a 2-0 victory over the Big Red on Saturday at Blackstock West field to add an NCAC Tournament trophy to their regular season championship trophy they already collected this season.
With the victory the Tigers are guaranteed a bid to the NCAA Division III Field Hockey Championship. The complete bracket will be released tomorrow on NCAA.com
Paige Henry once again tallied the game-winning goal after deflecting a Margaret Ellis lift shot past the Denison goalkeeper; giving the Tigers a 1-0 lead in the 50th minute.
With just over 10 minutes to play, Henry moved the ball down the right side and crossed it into the center to Ellis, DePauw's career goal scorer, who knew what to do with it, giving the Tigers a 2-0 lead.
DePauw received four nods on the NCAC all-tournament team and the MVP award. Grace Goodbarn, Chelsea Cutler joined Henry and Ellis on the squad, while Ellis copped the MVP citation.
DePauw outshot Denison 20-5 including a 12-1 advantage in shots on goal. The Tigers also held a 10-5 edge in corners.
Maggie Steele recorded her nation-leading 15th shutout for DePauw, while Brittany Benson had 10 saves for the Big Red.
For more information on the DePauw field hockey program, follow DePauw on Twitter (@DePauwAthletics / @DePauwFH) or like them on Facebook (www.facebook.com/DePauwAthletics).
Season Notes: The Tigers have registered 19 wins on the season thus far in the 2012 campaign, breaking the previous school record for wins (17 • 1987, 1999) and the NCAC record as well (18) … DePauw is on an 18-match win streak, a school and conference record … DePauw has tallied 15 shutouts on the season, most in the country and a record for both school and conference … additionally, the 15 shutouts thus far put the Tigers seventh in Division III history in that category … DePauw currently sports a 0.44 GAA this season, currently tops in the nation and tied for fifth all-time … Margaret Ellis' senior season has been a memorable one for her so far, breaking two 25-year old records, career points and goals, that were set by Colleen Konicek … Ellis now has 171 career points and 75 career goals entering NCAA Championship play … every DePauw athletics squad that caps off its season with a conference tournament (field hockey, women's soccer, men's soccer, volleyball) in the fall gained berth into the NCAC Tournament championship match, a first in conference history.
All-Tournament Team
Margaret Ellis, DePauw - Tournament MVP
Grace Goodbarn, DePauw
Chelsea Cutler, DePauw
Paige Henry, DePauw
Katie McMahon, Denison
Katherine Ireland, Denison
Karla Dixon, Denison
Jenna Ortega, Ohio Wesleyan
Karson Stevenson, Ohio Wesleyan
Josie Rey, Wooster
Nikki Sever, Wooster


Back