Tigers Capture NCAC Women's Soccer Tournament Title; Making Seventh NCAA Appearance
November 3, 2012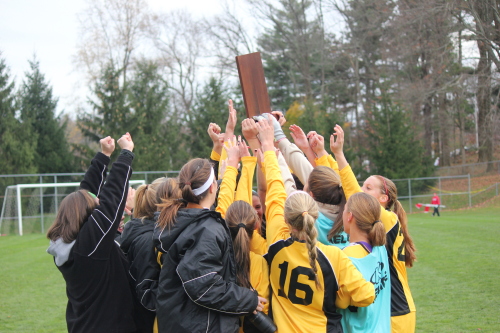 Granville, Ohio - Dana Sprague's goal in the opening 10 minutes of the second half was all DePauw needed as the Tigers claimed a 1-0 victory over host Denison in the North Coast Athletic Conference Women's Soccer Tournament championship game.
DePauw improved to 7-10-1 with its fifth win in the last six contests. The Tigers also earned automatic qualification into the NCAA Division III Championship for the seventh time in school history and first since 2006. The bracket will be released on a selection show at NCAA.com on Monday at 1:30 p.m.
After a scoreless first half in which each team had four shots, Sprague delivered her seventh goal of the season and fourth game-winning tally.
Denison held an 11-10 advantage in shots including a 5-3 margin in shots on goal. The Big Red also led in corners, 6-5.
Emma Cooper posted the shutout with four saves and Andrea Karl had two stops for Denison.
For more information on the DePauw women's soccer program, follow DePauw on Twitter (@DePauwAthletics / @DePauwWSoccer) or like them on Facebook (www.facebook.com/DePauwAthletics).
Back