DePauw To Play Calvin In First Round of NCAA Men's Soccer Championship
November 5, 2012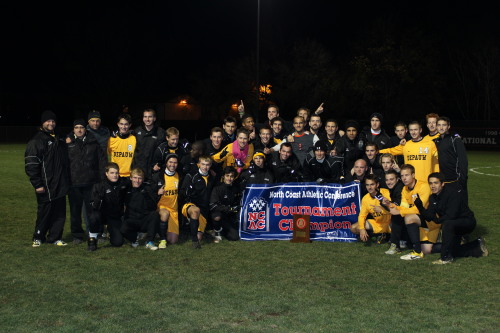 Greencastle, Ind. - Coming off of a second straight North Coast Athletic Conference Tournament championship, the DePauw men's soccer team opens the 2012 NCAA Division III Men's Soccer Championship against the defending national runner-up, Calvin College, on Friday, Nov. 9 on the Dominican University campus in River Forest, Ill.
Dominican will play host to Webster in the other game in the Tigers' pod, with the winners facing one another the following day at 1:30 p.m. CST. Friday's game times will be announced later.
DePauw wrapped up an impressive 13-1-5 campaign with a victory over defending national champion Ohio Wesleyan in the NCAC Championship final last Saturday. Sophomore Andy Morrison leads the Tigers are led in scoring with 11 goals and three assists this year. Tending the net has been senior Tony Halterman, who sports a miniscule 0.84 goals against average and has seen time in 10 DePauw shutouts this season.
More information will be available throughout the week.
For more information on the DePauw men's soccer program, follow DePauw on Twitter (@DePauwAthletics / @DePauwSoccer) or like them on Facebook (www.facebook.com/DePauwAthletics).
Back