DePauw To Play Emory In First Round of NCAA Women's Soccer Championship
November 5, 2012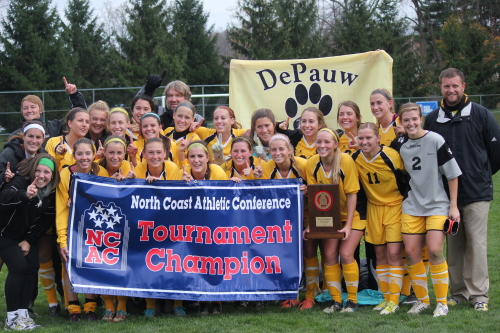 Greencastle, Ind.- The DePauw women's soccer team was four minutes away from elimination on the last day of the regular season, now they are headed to the NCAA Championship after it was made official earlier today that the Tigers would face Emory in the opening round of the NCAA Championship on Saturday, Nov. 10 at Centre College.
Centre will play host to Agnes Scott in the other game in the Tigers' pod. The winner will face off the following day at 5 p.m. (ET). Friday game times will be announced later.
The Tigers' improbable NCAA berth came after being winless in the season's first seven contests and being outscored 19-4. Since then DePauw has gone 7-3-1, including winning four matches in a row and five of the last six games. Leading the Tigers in scoring is forward Dana Sprague who has found pay dirt seven times this season. Goalkeeper Emma Cooper has stepped up her game late in the season, sporting a 0.50 goals against average throughout NCAC Championship play.
More information will be available throughout the week.
For more information on the DePauw women's soccer program, follow DePauw on Twitter (@DePauwAthletics / @DePauwWSoccer) or like them on Facebook (www.facebook.com/DePauwAthletics).
Back