Halterman Collects NCAC Honors
November 6, 2012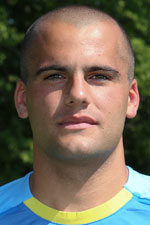 Greencastle, Ind. - DePauw senior Tony Halterman (Dyer, Ind/Lake Central) has been named the North Coast Athletic Conference Men's Soccer Player of the Week for his performances against Hiram and Ohio Wesleyan in the NCAC Tournament.
Halterman allowed only two goals in 200 minutes of North Coast Athletic Conference Tournament play and had 13 saves as the Tigers won the tournament title..
The second-seeded Tigers defeated off third-seed Hiram, 3-2, in Thursday's semifinal game as Halterman totaled seven saves.
DePauw won the title and earned the conference's automatic bid to the NCAA Division III Championship after tying Ohio Wesleyan 0-0, but outscoring the Battling Bishops 4-2 on penalty kicks. Halterman tallied six saves for the Tigers and came up big for DePauw during the PK portion of the contest.
Halterman has a 0.84 goals against average on the season and a .770 save percentage and has been part of all 10 shutouts including nine individually.
The Tigers travel to Dominican University (Ill.) on Friday, November 9, to face Calvin College in a 1:30 p.m. CST NCAA first-round game.
For more information on the DePauw men's soccer program, follow DePauw on Twitter (@DePauwAthletics / @DePauwSoccer) or like them on Facebook (www.facebook.com/DePauwAthletics).
Back