DePauw Advances to National Ethics Bowl for 8th Time in 9 Years
November 6, 2012
For the eighth time in the last 9 years, students from DePauw University will compete in the national Ethics Bowl competition. Over the weekend, two teams from DePauw competed in the 14th annual Central States Regional Ethics Bowl, which took place over at Marian University in Indianapolis. Out of twenty teams in the competition, DePauw's entries took two of the top four spots. As a result, DePauw advances to the 2013 Intercollegiate Ethics Bowl, which will be held on Thursday, February 28, 2013, in San Antonio, Texas.
DePauw's Team One -- consisting of seniors Ben Hoffman, Sara Scully, Robert Watson and Mohammad Usman, along with junior Ethan Brauer -- tied for second place at the regional competition. A second team -- composed of DePauw seniors Kyle Gough, Alex Landreville, Nathan Lynch and Katie Thrapp, as well as junior Luke Miller -- finished in 4th place.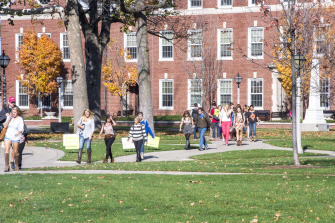 The teams are coached by Marcia McKelligan, Blair Anderson and Martha Caroline Rieth Professor of Applied Ethics and professor of philosophy; and Robert Newton, professor emeritus of philosophy.
Learn more about the event here.
Last year, DePauw reached the semifinals of the national competition. Details can be found in this summary.
The Central States Regional Ethics Bowl is sponsored by the Association for Practical and Professional Ethics (APPE).
Back