DePauw Advances to NCAA Second Round with Shutout over Calvin
November 9, 2012
Alieu Musa
River Forest, Ill. - The announcement of starting lineups was barely complete before DePauw's Alieu Musa delivered the game-winning goal in the Tigers' 3-0 win over Calvin in the NCAA Division III Men's Soccer Championship first round matchup.
The Tigers, making their 10th appearance in the national tournament, collected their second tournament win in program history and advanced to the second round where they'll face host Dominican at 1:30 p.m. CST tomorrow. The Stars scored three second-half goals and defeated Webster, 3-1 in the day's first match.
Musa scored his fourth goal of the season, unassisted, just 31 seconds into the contest to give DePauw all it would need.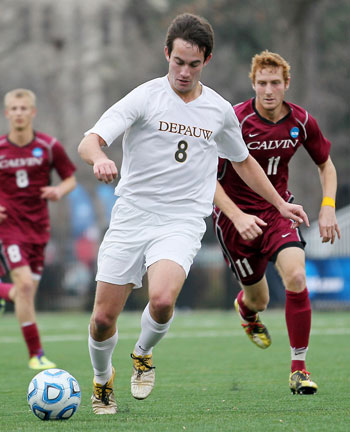 Adrian Ables also notched his fourth goal at 20:17 on Andy Morrison's assist before Morrison scored for the 12th time this season with help from George Elliott (right).
Calvin held a 29-17 advantage in shots, but DePauw led 10-9 in shots on goal. The Knights also doubled up the Tigers with an 8-4 corners margin.
Tony Halterman stopped eight shots for the Tigers' 11th shutout and his 10th, individually. Jared Rushlau had six saves for Calvin, while Andrew Claucherty came off the bench with one in the final 20:54.
For more information on the DePauw men's soccer program, follow DePauw on Twitter (@DePauwAthletics / @DePauwSoccer) or like them on Facebook (www.facebook.com/DePauwAthletics).
George Elliott photo courtesy of J. Geil Photography
Back