Tigers Finish 10th at NCAA Regional; O'Brien Just Misses Qualifying for National Championships
November 10, 2012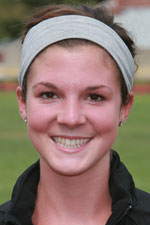 Anderson, Ind. - DePauw totaled 316 points and finished 10th among the 33 schools at the NCAA Division III Regional hosted by Anderson University. Hope won with 91 points, while Oberlin was second with 95.
Heather O'Brien (pictured) finished 16th in 22:11.37 and missed qualifying for the Division III Championships by one place.
Siri Retrum turned in a 45th-place showing in 23:11.10 followed by Emily Freiny in 79th in 24:01.88 and Megan Everhart in 84th in 24:07.27.
Ashley Guevara was 103rd in 24:25.21 followed by Emma Clor in 148th in 25:25.04 and Sophie Rambaud in 190th in 26:58.51.
For more information on the DePauw cross country program, follow DePauw on Twitter (@DePauwAthletics / @DePauwXCTF) or like them on Facebook (www.facebook.com/DePauwAthletics).
Back