DePauw Bows out of NCAA Play after Second-Round Loss
November 11, 2012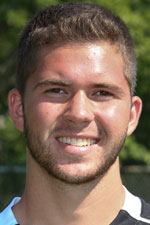 Jon Krok
River Forest, Ill. - DePauw competed in its 10th overtime contest of the season and, for the first time in 2012, finished on the short end in an extra session after a 2-1 loss to Dominican in the second round of the NCAA Division III Men's Soccer Championship.
DePauw finished the season at 14-2-5, while Dominican improved to 18-2-1 and advanced to the Division III Round of 16. The game was originally scheduled to be played yesterday, but lightning and darkness forced postponement until this morning.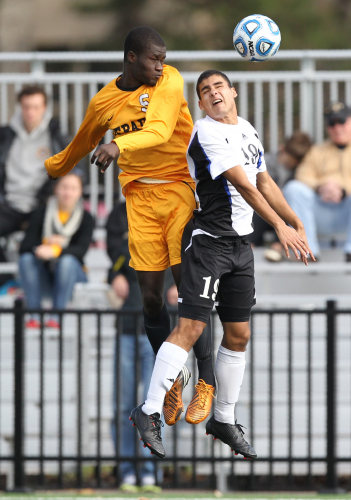 Trent Miller delivered the game-winning goal, 8:07 into the first overtime with David Aranda and Freddy Tovar assisting.
The host Stars took an early 1-0 lead on Logan Marvin's goal which came on another double assist by Ryan Roberts and Marco Alvarez at 8:26.
The Tigers evened the score on Jon Krok's first collegiate goal at 29:06 with Matt Reda assisting.
DePauw held a narrow 13-11 edge in shots, while the hosts led in shots on goal, 6-5. Dominican also led in corners, 9-3.
Tony Halterman recorded four saves in goal for DePauw, while Max Gutbrod finished with four.
DePauw's seniors finished their careers with a 56-12-9 record which ranks in a tie second in school history for wins by a class. The 12 ties equal the fewest by a class in school history.
For more information on the DePauw men's soccer program, follow DePauw on Twitter (@DePauwAthletics / @DePauwSoccer) or like them on Facebook (www.facebook.com/DePauwAthletics).
Action photo courtesy of Dominican University
Back