TV News Anchor Nicole Pence '06 Profiled in Hometown Newspaper
November 11, 2012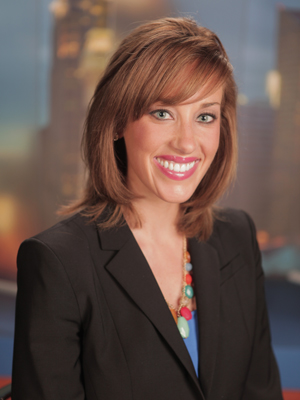 "When the news broke this past Monday that Colts coach Chuck Pagano's leukemia went into remission, WTHR's Nicole Pence got an exclusive interview with Pagano's doctors," reports Indiana's Columbus Republic. "It was a coup for the 29-year-old Columbus native, who joined the WTHR team in Indianapolis this spring as a field reporter and co-anchor of the Weekend Sunrise program, which airs Saturdays and Sundays. Within hours after posting the story to WTHR's website, Pence saw that other news outlets had grabbed the story, and it quickly spread throughout the Internet."
Beth Clayton-George writes, "After graduating with honors from DePauw University in 2006 with majors in communications and Spanish, Pence joined the staff at Indiana's News Center in Fort Wayne, where she worked as a reporter and fill-in anchor. In 2008, Pence was hired at WLEX in Lexington, Ky., as a reporter, and was promoted to a coveted position of morning anchor within her first year. And then, 3½ years later, she grabbed the opportunity at WTHR, a larger market and closer to her tight-knit family in Columbus."
Read more at the newspaper's website. Also available is this previous summary.
Back