Fourth-ranked Tigers Open with Easy Win over Blue Devils
November 16, 2012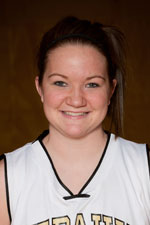 Milwaukee, Wis. - Fourth-ranked DePauw had little trouble in its season opener as the Tigers defeated Wisconsin-Stout, 88-48, in the first game of the Dunn's Sporting Goods Tip-Off Tournament hosted by Wisconsin Lutheran College.

The Tigers play for the championship on Saturday at 3 p.m. CST against Wisconsin Lutheran after the hosts defeated Hamline 58-53 in the nightcap.
"This was a good opening game for us," DePauw head coach Kris Huffman said.
"Stout plays up-tempo and changes defenses often. We handled the pace and adjusted well to the pressure."
Savannah Trees (pictured) got the season off to a quick start as she knocked down a three on the Tigers' opening possession and DePauw would never trail. With the lead at 10-9, DePauw outscored the Blue Devils 35-3 over the final 14:27 of the half for a 45-12 halftime lead.

The Tigers opened the second half with a similar 37-10 stretch to extend the margin to 82-22 with 9:10 left.

Trees led all scorers with a career-high 19 as she hit 5-of-8 three-pointers. Alex Gasaway added 12 on 6-of-7 shooting from the floor, while Kate Walker and Kathleen Molloy each scored 11.

Breaf Boomer paced the Blue Devils with 16 with Katelynne Folkers chipping in 11.

DePauw shot 49.3 percent from the floor and hit 11 of 26 from beyond the arc, while Wisconsin-Stout hit 37.0 percent from the floor and just 2 of 9 from three-point range.
The Tigers also held a commanding 42-27 edge on the boards with Alison Stephens grabbing a career-best eight. Whitney Rawdon led the Blue Devils with six boards. Walker handed out seven assists in the win. Wisconsin-Stout committed 29 turnovers to DePauw's 18.
Back