Historic Season Comes to a Close at NCAA Semifinal
November 17, 2012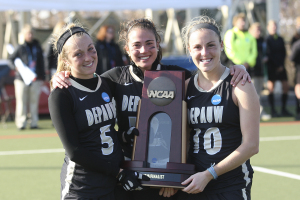 Geneva, N.Y. - Tufts scored once in each half off of penalty corners and topped DePauw, 2-0, in today's first NCAA Division III semifinal match at William Smith College. The Tigers' record-setting season came to a close with a final record of 21-2, while the 10th-ranked Jumbos advanced to tomorrow's national title game and improved to 18-2.
Tufts took a 1-0 lead at 27:52 as Dakota Sikes-Keilp scored her second goal of the season when Kelsey Perkins delivered a corner to her near the top of the circle.
DePauw's best scoring chance came with 2:36 left in the first on a corner as senior Margaret Ellis lifted a shot that went by the Tufts goalie, but Jumbo defender senior Rachel Gerhardt was there to record the defensive save.
Tufts added the insurance goal at 57:02 as Hannah Park knocked in her first goal of the season after a cross from Rachel Terveer
The Jumbos held a 12-5 shots advantage including a 7-3 margin in shots on goal, but DePauw had just one shot in the second half. Tufts also led, 11-9, in corners. The game also marked the first time this season DePauw was shut out.
The contest also marked the final game for DePauw seniors Caroline Torie, Bridgette Shamleffer and Margaret Ellis. The Tigers' four-year record of 62-20 ranks fourth in school history in both wins and winning percentage (.756).
For more information on the DePauw field hockey program, follow DePauw on Twitter (@DePauwAthletics / @DePauwFH) or like them on Facebook (www.facebook.com/DePauwAthletics).
TIGER TEAM NOTES
DePauw's 83 goals this season tied for second in school history with that of the 1987 team, while the 1988 squad holds the record with 91 … the Tigers' 45 assists rank second in school history behind the 54 in 1999 … DePauw's 15 shutouts this year matches the school record previously set in 1999 … the Tigers' 0.60 goals against average is second only to the 1999 team's 0.44 mark … the Tigers' 21 wins broke the previous single-season record of 17 set in 1987 and 1999 ... DePauw will officially finish in a tie for third in Division III which marks the 14th time a DePauw team has finished in the top four in Division III led by women's golf with eight, men's and women's basketball with two each and men's golf with one.
Back