Strong Defensive Effort Lifts Tigers to Win at Mount St. Joseph
November 18, 2012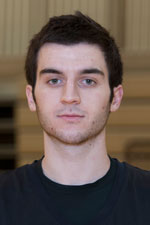 Cincinnati, Ohio - DePauw held a commanding 40-21 margin on the boards and limited host Mount St. Joseph to just 31.3 percent shooting on the way to a 59-39 win over the Lions in the Mount St. Joseph Tipoff Classic. Both teams stand at 1-1 after the contest.
DePauw scored the game's first seven points, but the Lions put together a 10-3 run to take a 10-9 lead. Mount St. Joseph still held a 16-15 advantage with just over seven minutes remaining in the first half, but the Tigers scored the final 10 points to take a 25-16 lead into the intermission. Barry Flynn and Michael Wilkison each scored five during the rally.
The Tigers carried the momentum into the second half as Flynn hit a jumper and two free throws to extend the lead to 13 and the Lions weren't able to get closer than 10 the rest of the way.
Wilkison (pictured) led the Tigers with 19 points, while Flynn added 15 with a team-high seven rebounds. Joe Scudder paced Mount St. Joseph with 18 points with Andy Countryman chipping in 11. Ken Kunkel grabbed seven boards.
DePauw returns to action on Saturday, November 24, when it faces Purdue North Central in the opening game of the Mike Rokicki Community Versus Cancer Challenge.
For more information on the DePauw men's basketball program, follow DePauw on Twitter (@DePauwAthletics / @DePauw_MBB) or like them on Facebook (www.facebook.com/DePauwAthletics).
Back