School of Music's Holiday Gala Set for December 1 & 2
November 19, 2012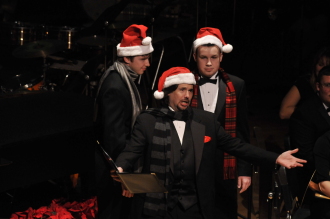 The music and spirit of the holidays will fill the Green Center for the Performing Arts on December 1 & 2 as the DePauw University School of Music presents its second annual Holiday Gala. The event will feature music from various traditions performed by soloists and ensembles from the college.
"The choir, band and orchestra, as well as a host of soloists and chamber groups, will perform music from a wide array of styles and holiday traditions," says Mark McCoy, dean of the School of Music. "While patterned on last year's event, there are plenty of surprises and lots of great music in store."
On Saturday, December 1, at 7 p.m., audiences can attend a full-length program with a reception, and on Sunday, Dec. 2 at 3 p.m., the School of Music will present a shorter concert for families and children. A reception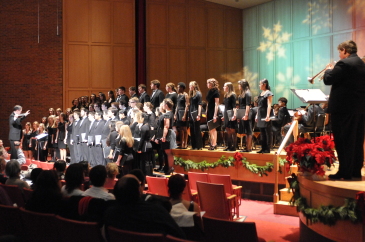 will take place following the Saturday concert.
Several local restaurants -- including 2 West, Almost Home, Chief's, Final Approach, The Fluttering Duck, Mama Nunz and Monical's Pizza -- have partnered with the University to provide dinner specials on Saturday night and ensure customers arrive at the concert before 7 p.m. These restaurants will also give out vouchers for free tickets to the Holiday Gala. Details on these dinner specials can be found online at www.depauw.edu/music/holidaygala or by calling the participating restaurant.
Prior to the Saturday evening performance, carolers from the School of Music can also be heard in stores and restaurants on the square.
The Holiday Gala is presented as part of "Greencastle: A Home for the Holidays," which was created in an effort to tie together various events in the Greencastle Community. The following seasonal
activities are planned to provide additional holiday cheer:
General admission tickets for the Holiday Gala concerts are $10 in advance or $12 at the door. Tickets for children, students and senior citizens are admitted free of charge. Tickets can be purchased online at www.depauw.edu/music/tickets or in person at the Green Center Box Office, 605 S. College Avenue.
The School of Music's "pay-what-you-can" option, which allows patrons to pay only what they can afford, is also available online and at the box office to anyone who requests it.
Back