Something (Else) in Common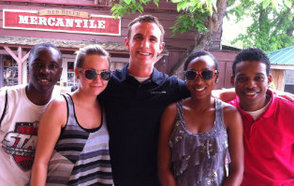 November 19, 2012
Christopher J. Mahnken '09 joined Teach For America as a chemistry teacher fresh out of college. The national organization recruits motivated college grads to teach in some of the country's most challenging schools, and his placement was no exception.
Tulsa's public school system serves 43,000 students, 80 percent of whom receive free or reduced-price meals. Mahnken's students coped with violence in the streets and poverty at home – problems that carried into the classroom. Research shows that poverty has a significant effect on learning, and it is necessary that educators are able to understand the psychological effects of growing up poor. It didn't take long for Mahnken to learn that his psychology major would be just as useful as his chemistry minor.
"I wasn't prepared for the amount of emotional, psychological and physical energy that it took to teach effectively, or the culture shock of working within communities that experience true poverty," he says.
At the end of his first year, he still had faith that even the toughest school could be turned around, but he had grown frustrated with the red tape and lack of will that slowed or prevented much-needed change. It was a tough job, and nobody would have blamed him had he left teaching for good. Instead, he doubled down.
Mahnken is still in Tulsa three years after he arrived. Earlier this year, he completed a master's degree in educational administration and was hired by another high school. He's now Assistant Principal Mahnken – the youngest in the district – and working on a Ph.D.
"I have seen and been a part of transformational change within the rigidity of the public school setting," Mahnken says. "The effect of strong leadership cannot be understated, and schools are in desperate need of leaders."
In many ways, Mahnken is the perfect embodiment of TFA's mission. The organization draws its teaching corps from a restless, idealistic pool of college graduates, offering them a chance to do something that truly matters. Thousands bite at the opportunity every year, and many stay hooked even after their teaching commitment has ended.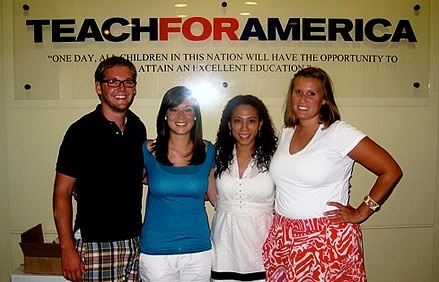 Matthew R. Jennings '09 never left TFA. After two years of teaching ninth-grade English and ESL in Houston, he became a TFA recruiter for Indiana and Ohio.
(Left: Jennings with classmates Ashley Chin, Marjorie Ramirez-Lino and Kathryn Hyde. All four served in TFA's teaching corps in Houston.)
"Joining the staff meant I was able to broaden my sphere of influence in the education reform movement beyond the four walls of my own classroom," Jennings says. "I get to work with some of the most talented, passionate and inspiring college students in the country. It's a pretty awesome gig – particularly when I'm back home at DePauw."
That's more than nostalgia talking. Jennings, a former Student Government president, recalls the myriad student organizations, Greek chapters and athletic teams that compete for attention on campus each week. In the classroom, his DePauw professors challenged students not to wait to put their education to use, but to go out and make a difference that day. If America's public schools needed leaders, he knew where to find them.
Jennings is now too old for current students to remember, and his Walker Cup is too unwieldy a reminder. But if DePauw's culture has changed at all since he left, it has become more receptive to TFA's call to action. His recruiting pitch often includes the sobering statistic that only 8 percent of children from low-income communities will graduate from college by the time they turn 24. This gap in opportunity resonates with today's college seniors just as it did for him: DePauw's Class of 2012 produced 19 recruits for TFA – the second highest among all small colleges.
"It's exciting to know that I've played at least a small part in the impact that these new corps members will have on their students," Jennings says.
DePauw's place in TFA's rankings is an obvious point of pride for Jennings. The teaching corps forms the roots of the organization, stretching into classrooms across the country to do its work. But the classroom isn't the only place where DePauw alumni have made their mark on the organization.
Siobhan M. Lau '09 never served in the teaching corps as Mahnken and Jennings did. At DePauw, she developed an interest in arts administration and continued her studies at the University of Cincinnati, earning M.B.A. and M.A. degrees.
While in graduate school, Lau managed an arts program and conducted weekly observations of the program in third- and fourth-grade classes in some of Cincinnati's elementary schools. The classrooms were often times chaotic and unproductive, and starkly contrasted her own educational upbringing in Chicago's suburbs.
"I often left observations feeling sad and frustrated, but also compelled to do something more," Lau says. "Despite the challenges that poverty was bringing into these classrooms, there were moments of inspiration and achievement that showed the true potential of the students. I wanted to find a way to increase my impact and be a part of helping students realize that potential."
She remembered walking along campus sidewalks chalked with statistics about the achievement gap and hearing DePauw friends speak passionately about their futures with TFA. Wanting to help students in her own community, she decided to take a job with TFA's development staff in Chicago.
Soon after starting the job, Lau began to notice that her alma mater's name kept popping up. She read about COO Elisa Villanueva Beard, a 1998 DePauw graduate, in TFA founder and CEO Wendy Kopp's A Chance to Make History. And there were regional board members – Matthew S. Darnall '85 in Chicago and Brian R. Garrison '00 in Indianapolis – and staff members such as Jennings in cities throughout the United States. No matter where she looked, DePauw was there.
"What struck me was the variety of positions these people were in – from current corps members to staff members on a range of functional teams, to aspiring school leaders, to board members," Lau says. "The sense of community at DePauw is what makes the school so special, and even after graduating, I feel like I'm part of a sub-community of DePauw alums within Teach For America. In our own unique ways, we're all working toward the same goal of eliminating educational inequity."
Back