"Good Constituent Service is Crucial," Writes Former Congressman Lee Hamilton '52
November 29, 2012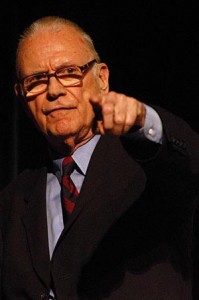 "The rigors of the campaign are still fresh, but for newly elected House members and senators, the hard part is just beginning," writes Lee Hamilton in a newspaper op-ed. "Already, they're inundated with advice on the issues they'll be facing: the fiscal cliff, crises overseas, how to behave in a highly partisan Congress. All of this will take time to sort out. But there's one task I'd advise them to tackle right away, whatever their party: learning how to do constituent services right."
A Democrat who served 34 years in the U.S. House of Representatives, Hamilton is a 1952 graduate of DePauw University. He notes that when it comes to be responsive to the voters in your district, "there's more to it than just currying favor with the electorate. Good constituent service, I believe, is crucial to being a good elected representative."
He adds, "The federal government is vast, complex, and confusing, and it touches far more lives than any private company. Sometimes it's a model of efficiency, but too often it's agonizingly slow to get off a passport or approve a disability payment. And it makes mistakes -- a transposed Social Security number, a wrong address, a benefit miscalculation --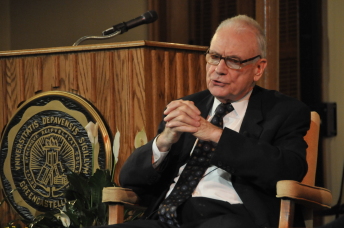 and then drags its heels fixing them. Its rules and regulations can be hard to navigate. Ordinary Americans get caught up in the gears, and they need help."
The essay continues, "As a member of Congress, you can learn a lot by paying attention. Though it's a habit for legislators to think of policy-making and constituent service as two distinct halves of their responsibilities, that's not always the case. The problems people are having keep you alert to what might need to be done legislatively. If there's a huge backlog of disability cases at the Social Security Administration, for instance, or a surge of veterans having trouble getting their benefits, that ought to be a warning sign. Workers in those agencies may be struggling to remain efficient, or they may need additional staff and resources -- either way, it bears investigating and, possibly, legislative action."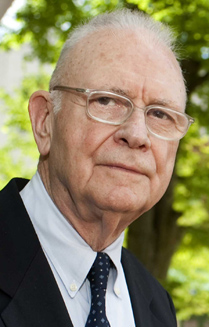 Access the complete column at the website of Washington state's Bonney Lake-Sumner Courier-Herald.
Lee H. Hamilton, who co-chaired the 9/11 Commission and Iraq Study Group, is now director of the Center on Congress at Indiana University. He majored in history as an undergraduate and starred on the Tiger basketball team (and is a member of both the Indiana Basketball Hall of Fame and the DePauw Athletic Hall of Fame).
Hamilton has been a frequent visitor to DePauw over the years, having given commencement addresses in 1971 and 1998. He also was among the presenters at DePauw Discourse in 2006 and 2008 and delivered an Ubben Lecture on March 15, 2011.
The Indiana Society of Chicago Foundation will honor Lee Hamilton as its "Hoosier of the Year" at the Society's 107th Annual Dinner, this Saturday, December 1. You'll find details in this story.
Back