Top-Ranked Tigers Move to 6-0 for First Time in School History
December 1, 2012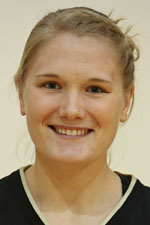 Granville, Ohio - For a program with accomplishments that include a national championship in 2007, nine straight NCAA appearances and an .845 winning percentage over the last 18 seasons it's hard to believe there's something the DePauw women's basketball team hasn't done before.
The top-ranked Tigers topped Denison, 61-39, in the North Coast Athletic Conference opener for both schools and moved to 6-0 for the first time in program history.
DePauw's 31st straight regular season win dropped the Big Red to 4-3 overall and 0-1 in conference play. The game was Denison's second straight against a ranked opponent as it lost, in overtime to second-rated Mount Union on Wednesday.
"This was an important conference win on the road for us today," DePauw head coach Kris Huffman said.
"We did a nice job on the boards today against a good Denison team."
Denison led by as many as five in the early stages after Nicole Coggins hit a three and Mary Margaret Habel scored on a layup to make it 9-4. The lead was still two at 14-12 with 12 minutes left, but DePauw started a stretch of 15 straight points with Ellie Pearson's three-point play and Alison Stephens' layin. The 15-0 run came in a span of just 5:32 and lifted the Tigers to a 27-14 lead.
The Big Red briefly closed the gap to nine, but scored the final six of the half to take a 33-18 advantage into the intermission. Denison scored on its first possession of the second half, however, the Tigers rattled off eight straight to push the margin to 21 at 41-20. The hosts got no closer than 16 the rest of the way.
Two DePauw players posted double-doubles with Alex Gasaway (pictured) scoring 17 and snagging a career-best 14 rebounds and Pearson scoring 13 and hauling down 12 boards. Kate Walker added 11 points and six assists. Pearson also blocked three shots.
Coggins paced Denison with eight points and six rebounds with Gretchen Staubach adding three assists.
DePauw shot 41.3 percent from the floor to Denison's 28.8 percent, while each team hit three of 10 from three-point range and made six free throws. The big difference came on the glass where the Tigers held a 53-24 edge and turned 20 offensive rebounds into a 22-2 second-chance point advantage.
The win was also DePauw's 25th straight conference game victory as the Tigers have won all 17 NCAC games since joining the league and their final eight in the Southern Collegiate Athletic Conference in 2011.
The Tigers travel to Delaware, Ohio, on Saturday, December 8, for a 1 p.m. NCAC contest at Ohio Wesleyan.
Back