Robert Kingsley: A Retrospective 1976-2012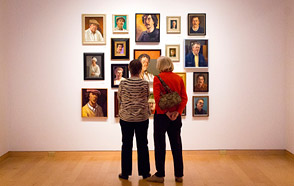 December 6, 2012
"Robert Kingsley: A Retrospective 1976-2012" is an exhibit representing a distinguished teaching and painting career of Professor Emeritus of Art and Art History Bob Kingsley – located in the Visual Arts Gallery in the Richard E. Peeler Art Center.
Kingsley says it was really enjoyable to see the paintings in the gallery, but he explains that the highlight was the alumni who came back for the opening. "I was just flabbergasted," he says. Students traveled from all over, including California, Minnesota and Puerto Rico. "It was very heartfelt. I truly enjoyed seeing them. Working at DePauw has been about the students. So, it meant a lot."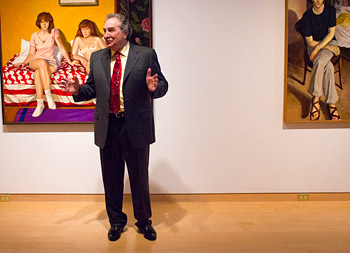 The exhibit opened in the fall and includes 64 pieces – a small fraction of Kingsley's career work. While he says it's gratifying to see the paintings up, he admits it was a challenge to initially figure out how to put 36 years into the space. "There had to be some deductions here and there, and that's always difficult," Kingsley explains. "I think, quite honestly, artists have different favorites than probably the public. It was easier to have Craig (Craig R. Hadley, curator of exhibitions and University collections) say 'Take this out; put this in,' rather than make the decisions on my own."
Reflecting on his early work, Kingsley explains that when he was in undergraduate school, he might have been considered an abstract expressionist. "It wasn't until I began studying at Tyler School of Art in Philadelphia that I decided I was pretty boring as an abstract artist. So, I went back, and took a figure-drawing course, and after that there was no turning back."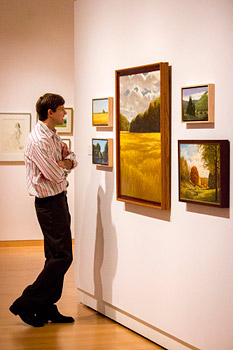 After completing graduate school at Indiana University, he was hired to teach a few courses there. "I had several interviews that year, but I was always the bridesmaid and never the bride," Kingsley says. That soon changed. As he was preparing for classes that summer, he learned of an opening in the art department at DePauw. "I interviewed, got the job and the rest is history," he says.
"I've had a wonderful experience at DePauw, and one of the best things about the University is its support for faculty," Kingsley says. "I taught art history when I first arrived because there were no art historians. I always had my back up against the wall in an early modern art class that I was teaching. I had to read furiously the night before to make sure I had my facts straight. At the beginning of the semester, I asked how many students had been to the Louvre. Everyone raised a hand, and I hadn't been there; I thought, this is ridiculous. So, the first opportunity I had, I went to Europe via faculty development and got some education firsthand, and that was an eye opener!"
Kingsley says that for a long time his focus was primarily the mechanics of organizing the space – sort of a geometrical annotation into looking at things. "For a time in graduate school, it was all about having the figures large enough that they were as imposing as you were," he says. "I made large paintings, and these people are just about life-sized. So, they have a presence about them. Everything is sort of tilted up in the pictures, so it's rather confrontational. At the time, I was very excited by that.
"Over the years, I began to think that I really like paintings that are visually quiet and calming, and give people an opportunity to escape a hectic day. So, most of my paintings are late afternoon light. The shadows are a little bit longer – end-of-the-day light – where you can kind of sit down and get lost in the image. I like formalism. A lot of my paintings are very formally constructed. You'll see paintings where they are equally divided left-hand side to right-hand side balance, bottom to top."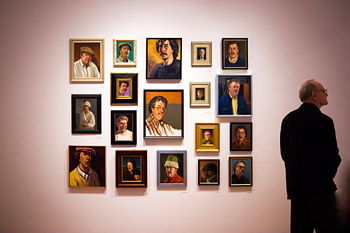 In the process of getting ready for the current exhibit, Kingsley counted his paintings – 420 of them, and they all have stories. "I have a painting, "The Three Graces," that was a true pain to paint," he says. "I think it took me nearly two years in total – not painting all the time. It was such a bear to try to figure out. It finally worked out, and I rather like it now. For the longest time, I'd have sold that one to you for a nickel."
Kingsley says the painting is reminiscent of Masaccio because the woman's hat in Kingsley's painting is similar to one worn by a woman in Masaccio's work. He painted the Brancacci Chapel murals, and the woman is depicted there. "It's not exactly her in my painting, but it's referential," he explains.
"Those kinds of things – those visual clues – make certain paintings very important to me. When I see that painting, I remember the first time I visited the Brancacci Chapel, and saw those murals. I don't always tell people what makes those paintings special to me. It's not important, but they're there."
Since Kingsley began his tenure at DePauw, the art and art history department faculty has grown considerably and moved into a new building. "For years there were four of us – Ray French, David Herrold, Bill Meehan and myself. We were in the Emison building, which was the library. There was a room upstairs that was both the drawing and painting studio. "I loved that space," Kingsley says. "You could open those huge windows and look out over East College. It is a beautiful building."
However, he says Peeler Art Center was a godsend. "It's wonderful. We were all involved in the planning of it, which was pretty unusual. Not only does the space accommodate the needs of faculty and students, the exchange in the painting and drawing studios is constant, so we're constantly getting fresh air. It's second to none. I can't believe how unhealthy we were years ago. I think back to when I was a student. The idea was to look like an art student. So, you'd clean your brushes on your pants – absorbing the pigment into your pants and into you skin. It's a wonder I'm still here!"
Robert Kingsley: A Retrospective 1976 – 2012 is on display through Dec. 14 in the Peeler Art Center, Visual Arts Gallery.
Back