Kent McDill '78 Authors 100 Things Bulls Fans Should Know & Do Before They Die
November 22, 2012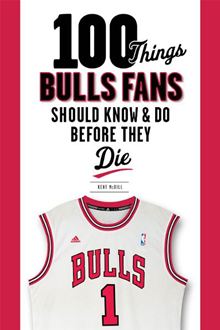 100 Things Bulls Fans Should Know & Do Before They Die, authored by 1978 DePauw University graduate Kent B. McDill, has been published by Triumph Books. "The premier reference for making Chicago Bulls fandom a lifestyle instead of just a sports preference, this collection of essential team knowledge and Bulls-related activities distills the past 50 years of NBA basketball into a fun checklist that will appeal to fans of any age," notes a synopsis. The text is a "resource that will enlighten new fans and initiate them into proper Bulls fandom, or remind die-hard fans why theirs is the team to follow year after year."
A communication major at DePauw, McDill has covered sports in the Chicago area since 1985. He worked for United Press International from 1978-88, then worked for the Daily Herald in Arlington Heights from 1988-2007. He spent 11 years covering the Chicago Bulls, from 1988-99, and covered the Chicago Bears and Chicago Fire from 1999-2007.
Order the book at Amazon.com.
Back