DePauw School of Music Reaches Into Community with New Effort
December 8, 2012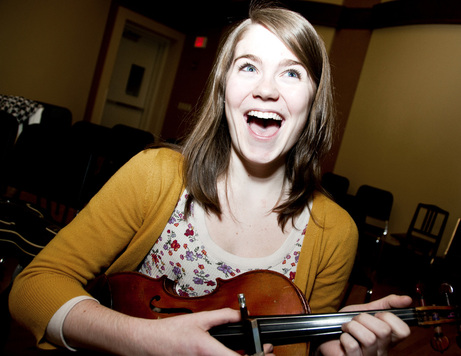 The DePauw School of Music is pleased to announce the creation of a preparatory music program for the Greencastle community. This new initiative will allow public school-aged students and all interested residents, of any age, to take private instruction on any instrument or voice part offered in the School of Music. Full-time and adjunct faculty, as well as selected students, will serve as instructors for these applied lessons.
The endeavor is another way in which the School of Music is working to provide greater public service to Putnam County.
"Applied lessons -- especially on violin, viola and cello -- are not readily available in our community," explains Mark McCoy, dean of the School of Music. "We believe this program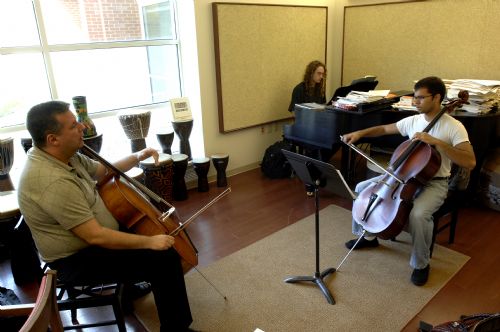 will have profound impact on providing broader educational opportunities in particular for elementary, middle and high school students."
Lessons will be delivered throughout the academic year, with students typically receiving 14 lessons each semester. String, brass, woodwind, percussion, piano, organ, and voice, as well as dance and acting classes, are all available. A range of fees will be offered, depending upon the experience and credentials of the chosen instructor.
Caroline Smith, the Cassel Grubb Professor of Music and coordinator of the vocal arts division in the School of Music, feels the new program offers a remarkable opportunity that will allow students to explore not only lessons in voice but also other instruments that they may be curious to try.
"It will be especially beneficial for the young singer who will be able to better prepare for roles in high school productions and for competitions offered through the Indiana State School Music Association," notes
Professor Smith. "The guidance provided will establish a healthy foundation for singing now and in their future."
McCoy adds, "We hope to see the prep program grow over time to also include ensemble and course opportunities, and we are currently exploring scholarship options for students in need of financial assistance."
For information on the DePauw Preparatory Program, visit the School of Music website, www.depauw.edu/music/preparatory, or contact Debbie Noll at (765) 658-6732.
Back